Lindsey Graham: Trump Has 'Pre-9/11 Mentality That Paved the Way for 9/11'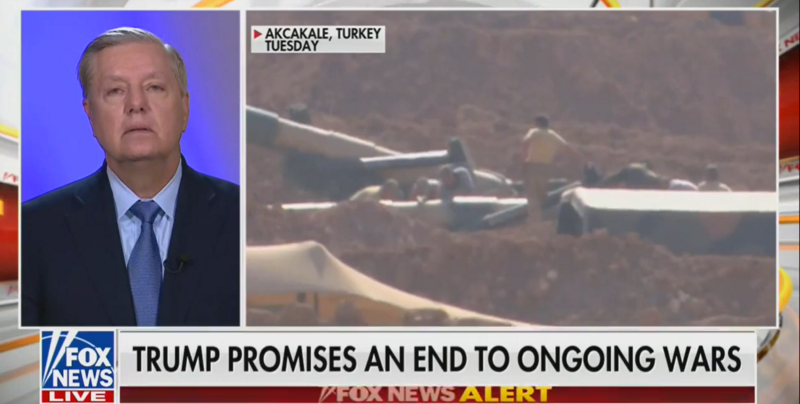 Senator Lindsey Graham ratcheted up his criticism of President Donald Trump on Wednesday following the announcement that U.S. troops would withdraw from Northern Syria. The South Carolina Republican told Fox News' Brain Kilmeade that Trump's decision was as bad as Barack Obama's on Iraq.
Kilmeade asked Graham to respond to a tweet the President said this morning where he dismissed fighting between groups in the Middle East and called for an end to U.S. involvement.
"That'a a pre-9/11 mentality that the Mid East is no concern to us," Graham said. "I'll say what I said to President Obama, I hope President Trump's right. I hope we can turn the fight against ISIS over to Turkey. I hope that Turkey when they go into Syria, they won't slaughter the Kurds. I will say this to the President, it will be hard to protect America without allies over there and the Kurds have been good allies."
"And when Turkey goes into Syria, they're not going in to fight ISIS. They're going in to kill the Kurds because in their eyes they are more of a threat to Turkey than ISIS. So I hope he is right. I don't think so. I know that every military person told him don't do this."
"This is the pre-9/11 mentality that paved the way for 9/11. What's happening in Afghanistan is no concern to us. If he follows through with this, it'd be the biggest mistake of his presidency. I would argue for him to go back status quo. The safe zones were working, patrolling with Turkey and international forces to protect the Kurds and Turkey is the way to go. If we pull out, the Kurds are in a world of hurt and ISIS comes back and President Trump will own it."
Kilmeade joked that Senator Rand Paul would be pleased but Graham compared Trump's decision to President Obama, whom Trump famously cannot stand.
"No, this is Obama. No, this is not Rand Paul. This is Obama. Obama did the same thing in Iraq. He was told we can't leave yet. We can reduce our forces," Graham said.
Graham said that Trump's policy so far had allowed the U.S. to destroy ISIS but later appeared to contradict himself while criticizing the President.
"Well, it's a lie that the ISIS has been defeated. The caliphate's been destroyed but it will reemerge. The Kurds can't fight Turkey and control ISIS at the same time," Graham said.
"So everybody is telling him this won't work but he is doing it anyway just like Obama and Erdogan is not our friend. And Congress will push back. We're not giving Turkey a green light in Congress and we're not gonna abandon the Kurds. If the President does so, we won't."
Watch the video above, via Fox News.