'Fox & Friends' Clutch at Straws: Trump Didn't Say 'Do Me a Favor', He Said 'Do Us a Favor'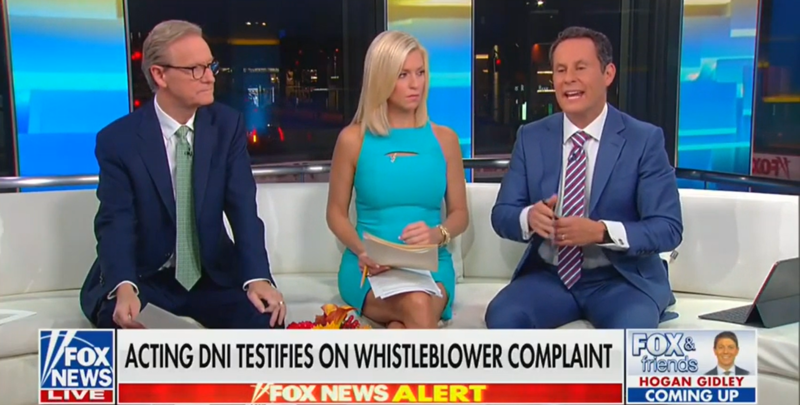 One of President Donald Trump's favorite TV shows, Fox & Friends, struggled to defend the President on Friday in the face of an impeachment inquiry and evidence that he tried to get a foreign government involved in the 2020 election. In segment after segment, the hosts and their guests threw everything at the wall to see what would stick.
This strategy was previewed early in the morning when co-host Brian Kilmeade tried to draw a distinction between Trump asking for personal favors and asking for help investigating corruption. Kilmeade was referencing an article in the Washington Post but his embrace of it showed trouble signs for a network trying to defend the President.
"He makes no threats to the leader of the Ukraine," Kilmeade said. "He will — he doesn't say 'do me a favor'. He says 'can you do us a favor'. He doesn't demand the server. He demands information on Crowdstrike. He says …. and this guy was not a direct witness. This was an indirect account."
"And when you talk about a cover-up, this was put into a place which was cyber security secured," Kilmeade said.
"A special computer," Steve Doocy said.
"A special computer which was password secured and you could thoroughly understand the administration wanting to guard against interactions that are important for national security," Kilmeade said, referring to earlier phone calls that leaked to the press.
Watch the video above, via Fox News.