Trump Lawyer Jay Sekulow Hints at Conspiracy: A Law Firm Wrote The Whistleblower Complaint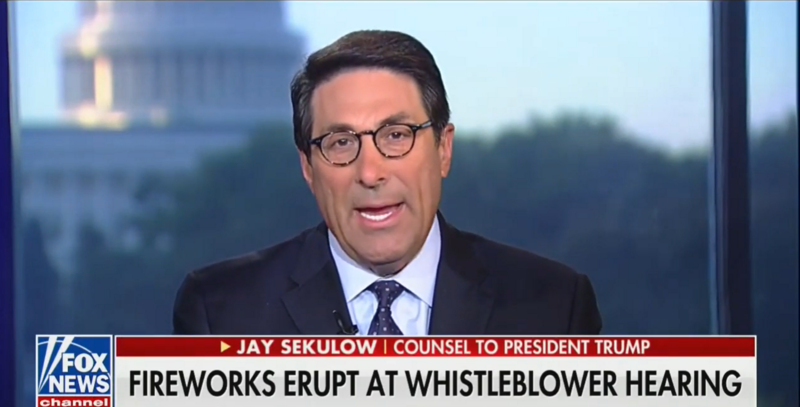 One of President Donald Trump's personal lawyers Jay Sekulow has claimed that the Ukraine whistleblower complaint was written by a law firm. Speaking on Fox & Friends, Sekulow hinted at a conspiracy against the President, calling the whistleblower a spy.
"The whistleblower or what — I don't even like calling this individual a whistleblower, this individual that decided to spy on the President's conversation based on hearsay information, that's a better way of saying it," Sekulow said.
"But whatever you want to do on that front, this individual had no first hand knowledge of anything. Nothing. Had no idea. Said it. So when you start with the witness saying, Steve and Brian, I have no knowledge of the events I'm depicting here and I'm basing this on conversations I had with colleagues of mine and I think they're trustworthy."
"Do you know if they heard it correctly? I don't know because I don't have firsthand knowledge. And do you think the whistleblower drafted that complaint? I mean, realistically?"
"Did they have help?" co-host Brian Kilmeade asked.
"Look at at the phraseology, the end notes and footnotes," Sekulow said. "This wasn't drafted by this individual. This was written by a law firm. And you know what? The American people see it for what it is. No one has the — nobody has the appetite for this anymore. They want to keep doing it? Call for a vote. That's what I tell Jerry Nadler and Adam Schiff. Call for a vote."
It's worth noting many people use footnotes and end notes apart from lawyers, including many college students.
Watch the video above, via Fox News.