Trump Labor Department Official's Mockery of Antisemitism Gets Labeled as Real Antisemitism, Leads Him to Resign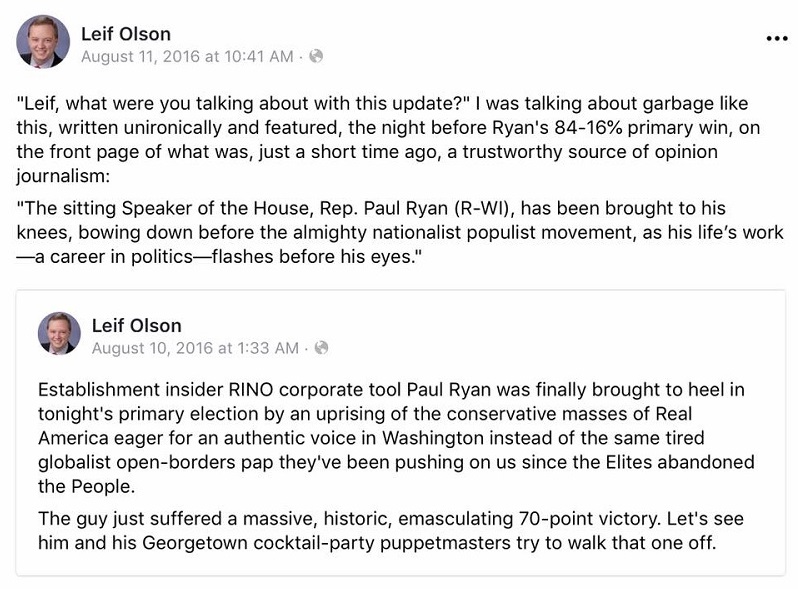 Here is something you don't see every day. On Tuesday a Trump administration official resigned after being inaccurately accused of antisemitism.
Leif Olson had just begun working as a policy advisor in the Wage and Hour Division of the Labor Department on August 12. Then a reporter for Bloomberg Law dug up some old Facebook posts by Olson that the outlet deemed antisemitic. The reporter, Benjamin Penn, sent screenshots to the Labor Department with a request for comment. According to Penn, four hours later he received word that Olson had resigned, effective immediately.
Where this gets weird is when one reads the posts and sees clearly that Olson was mocking antisemitism.
Granted, sarcasm sometimes does not translate well to the Internet. But there was some important context to the posts that would have perhaps clued Penn in if he had not missed it.
Olson posted his comments in August of 2016. At the time, then-Speaker of the House Paul Ryan was locked in a primary battle for his Wisconsin congressional seat with Paul Nehlen, a vicious anti-Muslim bigot who claimed to be part of the alt-right. Nonetheless — or more accurately, because of his hard-right views — Nehlen had been championed by outlets such as Breitbart, which spent much of 2016 openly advocating for Ryan's defeat.
Nehlen was later revealed to be a hardcore antisemite as well. But before the general public knew this about him, Olson was writing Facebook posts parodying the views of Nehlen and his supporters, using the sort of over-the-top language common to Breitbart reporters:
Establishment insider RINO corporate tool Paul Ryan was finally brought to heel in tonight's primary election by an uprising of the conservative masses of Real America eager for an authentic voice in Washington instead of the same tired globalist open-borders pap they've been pushing on us since the Elites abandoned the People. The guy just suffered a massive, historic, emasculating 70-point victory. Let's see him and his Georgetown cocktail-party puppetmasters try to walk that one off.
Olson is a neoconservative, a group that includes many Jews and which spent much of 2016 mocking the language of people such as Nehlen who peppered their critiques of the GOP establishment with antisemitic tropes about "globalists" and "elites." But just in case anyone — such as, say, a Bloomberg reporter in 2019 — missed the context, Olson also posted this in August of 2016:
The left would quibble with referring to Breitbart as "a trustworthy source of opinion journalism," but this post makes it clear that Olson had been parodying the coded language of that site. Penn either missed this or, more ominously, purposely left it out of his story.
After handing in his resignation, Olson posted on Facebook that "I never thought I'd see the day when making fun of alt-right anti-Semites led to being branded an anti-Semite, but here we are."
Late Tuesday afternoon, Bloomberg told Erik Wemple of The Washington Post that it stands by its reporting:
Asked Bloomberg for a comment on the @benjaminpenn story on Leif Olson. https://t.co/Nt7fQGxMUT The response is unsurprising and highly disappointing: pic.twitter.com/oX1c9a8wcI

— ErikWemple (@ErikWemple) September 3, 2019
This response is the equivalent of Bloomberg sticking its fingers in its ears and hollering "LA LA LA WE CAN'T HEAR YOU." The outlet's position is that its reporter asked for comment from the Labor Department, Olson resigned, and that is the end of its responsibility.
But that position is not consistent with responsible reporting here. Even if one excuses Penn's failure to recognize the sarcasm of Olson's original posts, the conservative made it clear that he was mocking antisemitism, not engaging in it himself. While Bloomberg did quote Olson telling Penn that he had been engaging in sarcasm, it seems appropriate to make clear that his later post upends the entire premise of the story.
The resurgence of antisemitism in public life during the Trump administration is an important story. Reporters should be looking at it closely. But it is also important to not be overzealous, to report accurately and give context. And to acknowledge when you have failed at meeting those standards.