'Morning Joe' Mocks Fox's Stuart Varney: This Is Performance Art Or Monty Python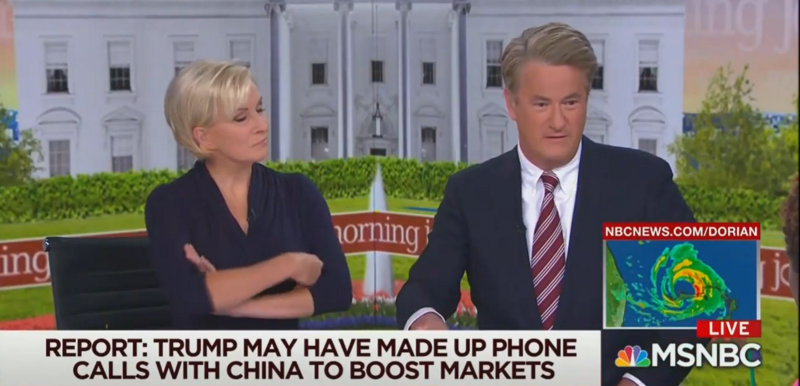 MSNBC's Morning Joe mocked Fox's Stuart Varney on Tuesday following Varney's assertion that President Donald Trump has never lied to the American people. Varney was interviewing Joe Walsh, who is challenging Trump for the Republican nomination in 2020.
Morning Joe showed the clip of Varney and Walsh that has gone viral in recent days before wondering why Varney would say Trump had never lied.
"I mean, we're old enough to remember that guy, CNN Money," co-host Joe Scarborough said. "He actually was a respected money guy, Donnie, and here this is like — this is like a comical version of 1984. If they decided to do 1984 the comedy, it would — I mean, talk about double speak."
"You know, I'm not a psychologist," Donnie Deutsch said. "You just wonder, a guy like that — have they somehow delusionally talked themselves into it or is it performance art? They go, this is what I do, I'm here, this is not really news, this is like theater?"
Scarborough said that Varney and others defending Trump are bad liars, compared to Bill and Hillary Clinton, whom he said were very good at it.
"Well, I think it's for the audience of one, right?" Karine Jean-Pierre said. "Who watches consistently is Donald Trump. They are performing for Donald Trump. And they are also sold and bought in for Donald Trump. They are in the pocket of Donald Trump."
"And lot of it is because, you know, he does what he — he does what they have been dreaming of. Whether it is his policies that really — you know, whether it's a tax cuts, whether it is the deregulating, there are things that they are happy about. That's the thing. They know that he is watching and they are performing for him. And that's it. That is the bottom line for them."
The Washington Post's Eugene Robinson compared Varney's performance to a famous comedy sketch by the British group Monty Python.
"If Barack Obama had done like one day's worth of the Trump presidency, he would be so impeached. You know? They would have gone absolutely crazy," Robinson said. "That Stuart Varney pitch was like the Monty Python dead parrot sketch, you know?"
"It's dead? Dead? It's not dead," Scarborough joined in as the two laughed.
Watch the video above, via MSNBC.