Fox News' Brian Kilmeade: Abusing The Asylum System Is Worse Than Being A Killer Or Criminal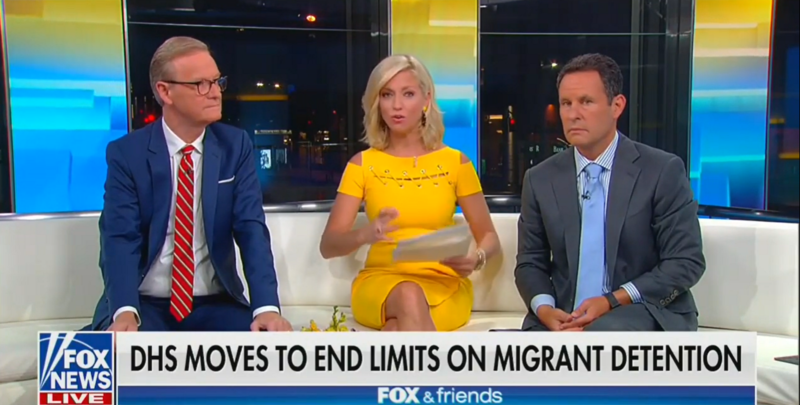 Fox & Friends took time on Thursday morning to defend the Trump administration's plan to detain migrant children indefinitely. The new rules have been slammed as cruel and inhumane by opponents and have been compared to child abuse. Naturally, the Fox & Friends hosts strongly defended the measure.
"Thee goal is not to hold families indefinitely," co-host Brian Kilmeade said. "The goal is to bring in organization to a situation that's out of control because people were abusing it. They were grabbing kids in a third of the cases, that were not theirs, recycling those kids in order to get into the interior of the country in 20 days."
Fox & Friends has parroted the claim that many migrants are bringing children who are not theirs. However, only a tiny percentage of family units have been found to be fraudulent. Fox News has tried to paint the Trump administration's policy as an attempt to help trafficked children.
Co-host Ainsley Earhardt claimed that the President is concerned that criminals and killers could be among the migrants, but Kilmeade undercut that claim almost immediately.
"Killers and criminals bad, but what's worse is people abusing the system to break the asylum system, just grabbing a kid because I'd rather be in America rather than another country. That's not the way it works," Kilmeade said.
Again, the number of people 'grabbing a kid' to cross the US border is minimal. Kilmeade seemed less concerned about actual criminals than migrants who might exploit loopholes in the system but who are otherwise not a danger to the US.
Watch the video above, via Fox News.