Hannity Claims He Was Just Joking Over Fears of 'Mid-Morning Raid' Due to Russia Coverage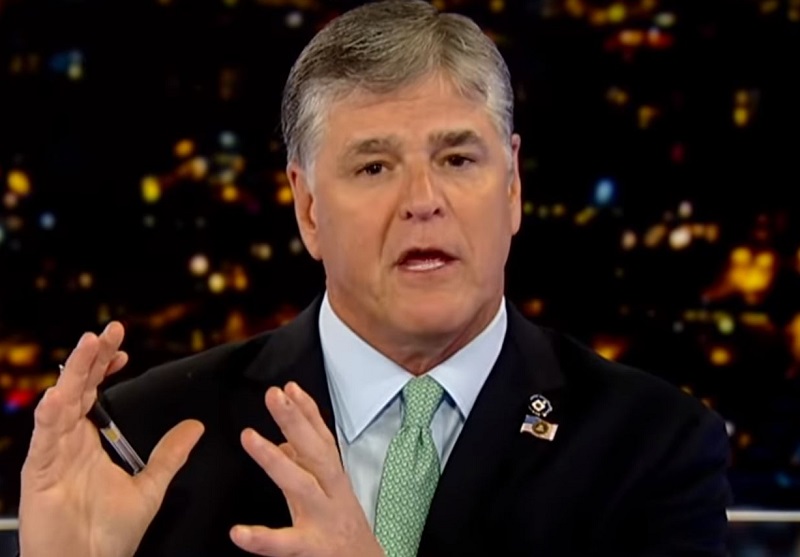 Sean Hannity likes to hint to his audience that the dark, nefarious forces working against President Trump are also going to try to silence him at some point over his own investigations of the Deep State. So even when he's joking, he should not really act surprised if someone takes him seriously.
Hannity was interviewing Sen. Lindsey Graham on Tuesday night about the upcoming report of Michael Horowitz, Inspector General of the Justice Department. Horowitz has a long-gestating report on the origins of the Russia investigation that Hannity and others on the right have long claimed will vindicate Trump completely and prove that the entire saga was a made-up attempt by the Deep State to cripple his presidency:
Hannity is apparently worried that all of his Spygate ramblings will lead to a "mid-morning raid at [his] house" or him becoming the victim of a "bad accident"

"In all seriousness, this is not a joke." pic.twitter.com/1n5HOCC8ha

— Justin Baragona (@justinbaragona) August 21, 2019
Hannity was clearly joking with Graham, though he has been known to say seriously stuff like this on both TV and his radio show. He has also made such comments in private, as the paranoia running through the texts he exchanged with Paul Manafort that were released earlier this summer seem to reveal.
But even as he laughed off his comments with Graham on Tuesday, Hannity added,
"This is not a joke. This was literally an attempt to rig an election, favor one candidate that should have been charged with felonies. This is about undoing an election, a soft coup against a duly-elected president."
Larry Klayman, the founder of Judicial Watch and a long-time rightwing gadfly, had this to say about Hannity's comments:
Hannity Has Reason to Fear After Having Michael Cohen as His Lawyer and Then Lying About It! https://t.co/CH3rkkgwBI

— Larry Klayman (@LarryEKlayman) August 21, 2019
Hannity then felt compelled to knock down any thought that he seriously believes the the Deep State will come after him:
Larry Michael Cohen was NEVER my lawyer as I said at the time. He never once worked on ANY case for me, EVER. I never paid him, I was never billed by him and I never did any business with him. (1/2) https://t.co/9RooiNJ2aT

— Sean Hannity (@seanhannity) August 21, 2019
(2/2)
He did apologize to me after his lawyer wrongly stated that in court. I do pray for him and his family.

The comments last night were made in jest. I wish you well also. Sean https://t.co/9RooiNJ2aT

— Sean Hannity (@seanhannity) August 21, 2019
Hannity may have been joking this time, but this kind of paranoia is a running theme throughout much of his work. He can't be surprised when his enemies jump on such comments.