Rick Scott Dodges Questions About Trump's Racism by Complaining About Dems' Attacks on Border Patrol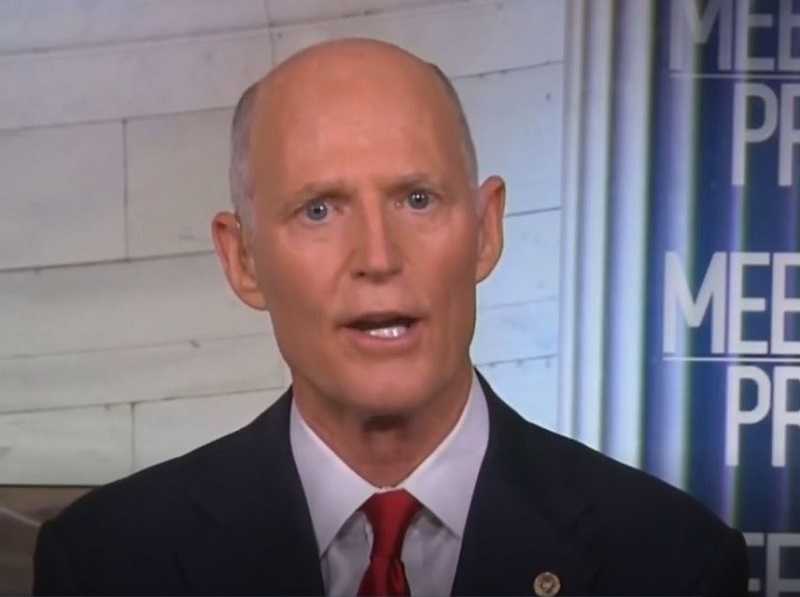 Sen. Rick Scott was dodging and weaving like Manny Pacquiao when asked by Chuck Todd on Meet the Press to respond to Donald Trump's racist Twitter attack on Rep. Elijah Cummings.
Scott, the former Florida governor, first tried to tout his own bona fides as a politician who will meet with everyone, citing his own recent talks with groups of Chinese-Americans and Venezuelans. Which, congrats on doing basic constituent services in your own state, Senator.
Todd then pushed Scott on whether Trump's recent racist attacks on Cummings and the "squad" of four congresswomen of color is "good politics" for the Republican Party. That was when Scott went into "both sides are equally to blame" mode:
"I'm very disappointed in the people like Congressman Cummings, who is attacking Border Patrol agents that are trying to do their job when the Democrats won't do their job and give them the resources to do it. They won't secure the border. They won't fix the asylum laws. Democrats want to sit there and say, oh, those Border Patrol agents don't care."
This in no way answered Todd's question as to whether Trump had shown "presidential leadership" by firing off racist attacks at people of color. So Todd noted that Scott was "harsher on Elijah Cummings then you were on the president and what he's done."
Scott responded that when he agrees with the president, he will say so. When he disagrees, he will also say so. Which leaves a viewer to assume he agrees with the president's recent spate of racist Twitter attacks, since he would not publicly disagree about them despite being offered a wide-open chance to do so.
Watch the video above, via NBC News.