'We're Crossing a Threshold': House Dems Inch Towards Impeachment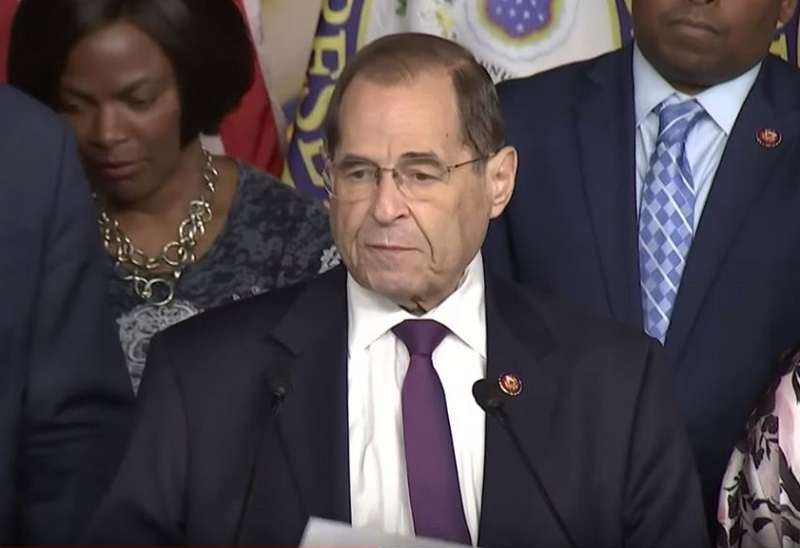 The House Democrats seem to be starting an impeachment inquiry into President Trump. They would just prefer that no one say that.
That was the muddled message out of a press conference held on Friday by Rep. Jerry Nadler and other members of the Judiciary Committee he heads. The presser was ostensibly so Nadler could announce the committee is going to court to demand the Department of Justice turn over the underlying grand jury evidence collected by Robert Mueller during his nearly two-year investigation into Russian interference in the 2016 election and Donald Trump's attempts to stop it.
What came out of the press conference was the sense that the Judiciary Committee is using its authority to proceed on an impeachment inquiry, as Greg Sargent of The Washington Post wrote today that it could do. At the same time, the committee is trying very hard to not contradict the message coming from House Speaker Nancy Pelosi and the rest of the caucus' leadership that impeachment is still way off in the future, if it happens at all.
Hence the messaging confusion. Nadler was very careful to say the committee is simply continuing its work "to seek testimony" from key witnesses and follow the facts wherever they may lead. From Buzzfeed:
Pressed Friday on whether the Judiciary Committee's work was, whether or not he wanted to say so, an impeachment inquiry, Nadler eventually said, "In effect."

"I suppose there's one difference you could draw if you said an impeachment inquiry is when you consider only impeachment," Nadler added. "That's not what we're doing."
His fellow Democrats would not even go so far as that grudging acknowledgement. Rep. Jamie Raskin (D-MD) called what is happening an "impeachment investigation," not an inquiry. Rep. Mary Gay Scanlon told Vice that "this term impeachment inquiry…isn't really a thing," and what the committee is doing is "an investigation into whether we should bring articles of impeachment."
Whatever you call it, however, Rep. Veronica Escobar (D-TX) seemed to sum things up the best when she said "We're crossing a threshold."
The Democrats are backing their way into filing articles of impeachment on Trump — slowly, quietly, announcing it on the afternoon  they begin a six-week congressional recess. But they are heading in that direction nonetheless.