Ken Cuccinelli Tells CNN Trump's Racist Tweets Could Motivate Democrats to Fix Border Crisis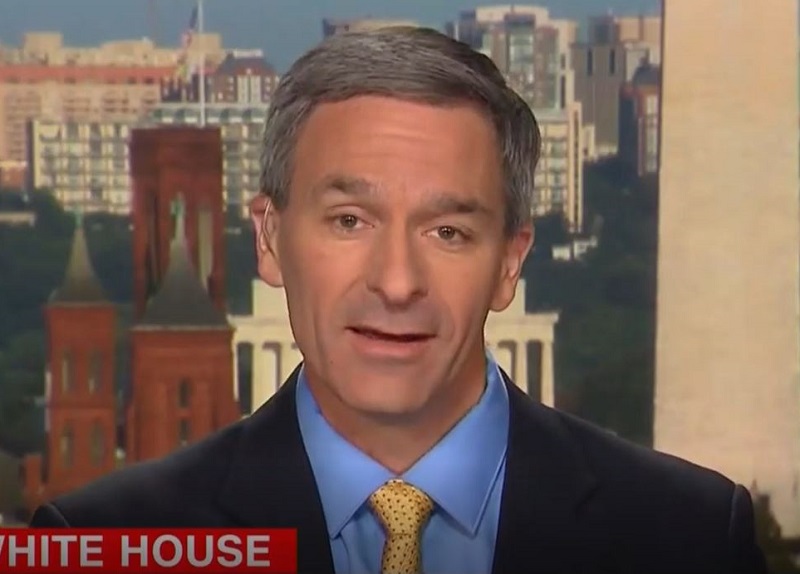 Acting Director of Citizenship and Immigration Services Ken Cuccinelli told CNN's Alisyn Camerota that perhaps President Trump's racist tweet attack on four Democratic congresswomen this weekend might "rouse" Congress to work on finding legislative solutions to the migrant crisis on the southern border.
Cuccinelli made the comments after Camerota asked if he thought the tweets were "helpful" in working on the crisis.
"Well, anything that starts to jar them into actually addressing the problem whether it's out of happiness or being upset with him or whatever it may be," Cuccinelli said, before going on to complain that Democrats don't have a plan to address the crisis before their August recess.
"So you think this might be helpful into jarring them into action?" Camerota said.
"I didn't say that," Cuccinelli snapped back before saying the Democrats are "going to have to rouse themselves" to deal with the crisis. Which sure sounds similar to saying the tweets could jar them into action.
It is unclear why Cuccinelli thinks infuriating congressional Democrats by firing racist broadsides at their colleagues might move them to negotiate with the president and his party on figuring out a solution to the crisis. Perhaps it is some sort of three-dimensional chess move on Trump's part. Alas, Camerota did not ask.
Camerota also caught Cuccinelli in a lie. After saying he had not read Trump's tweets, Camerota said, "Didn't my colleague Jake Tapper read you that tweet yesterday?"
When Cuccinelli answered yes, Camerota said he'd had 24 hours to process it. Cuccinelli responded, "So what?"
So what, indeed.
Watch the video above, via CNN.