Joe Scarborough On Evangelicals: Getting Federal Judges Trumps Jesus' Teachings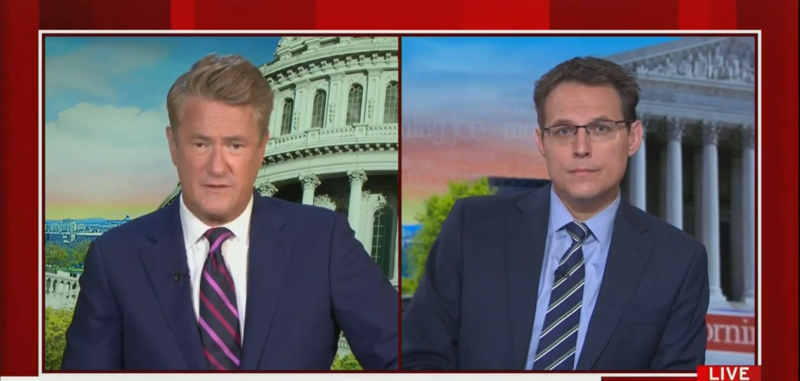 MSNBC's Joe Scarborough criticized Evangelical Christians again on Wednesday morning. The Morning Joe host has taken aim at Trump-supporting Christians for some time and a new poll about Evangelical attitudes to refugees led him to launch a powerful attack on the group.
According to a new Pew Research poll, 68% of white Evangelicals don't believe the US has a responsibility to take in refugees, while 50% of mainline Protestants thought the same. Other Christian denominations broadly approved of the idea.
"That 68% is a defense of Donald Trump, a man that many of them have said, look, we elected a president, not a saint, a guy who would stand up for us," Morning Joe regular Willie Geist said.
"I think the core of the campaign is what this man [Trump], this one man has done to alter our country," MSNBC's Mike Barnicle said.
"We now have the acceptance of abnormality as a huge underlying issue in this campaign, and in every day American life."
"The acceptance of cruelty, the acceptance of misogyny, the acceptance of corruption, both political and moral and each candidate has an obligation, I would think, to address these issues in some form of fashion. Because what happens is it has altered the reality of America and the image of America around the world."
Scarborough was even more scathing than his colleagues.
"And what a bitter bitter irony that you have a political movement – that you now have a subset of the church … that is so obsessed with the appointment of federal judges over the treatment of young children, worried about the unborn and seemingly dismissing how children are treated, how infants are treated, how toddlers are treated, how these children on the border are being abused," Scarborough said.
"There is no doubt, and I know this as someone who grew up in the southern Baptist church. There is no doubt that the single motivating factor overriding almost every other factor is the appointment of federal judges. So the appointment of federal judges now trump actually what Jesus writes about in Matthew 25, talks about in the Gospels about taking care of the poor, the disadvantages, the hungry, the thirsty."
Watch the video above, via MSNBC.