Diamond And Silk: Democrats Were Auditioning To Be President Of Mexico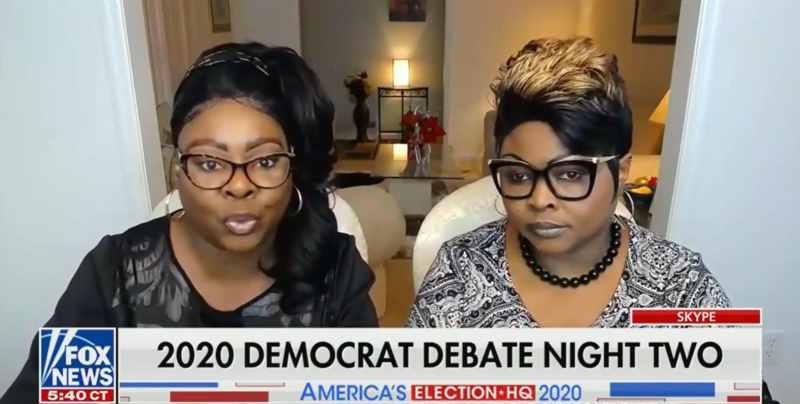 Fox Nation personalities Diamond and Silk (Lynnete Hardaway and Rochelle Richardson) gave their take on Thursday night's Democratic debate on Fox & Friends Friday morning. The conservative duo were predictably unimpressed by the candidates.
The segment focused on former Vice President Joe Biden and Senator Kamala Harris, who clashed last night over the issue of school bussing. As race becomes a major feature of the Democratic primary, older Democrats' records will come under scrutiny.
Harris also criticized the economy under Trump, saying people were working several jobs to make ends meet.
"Why didn't he say that up under Obama's economy when people were working two and three jobs?" Hardaway said.
"Shame on Kamala Harris. Because if she believes in income equality, then what about the people that live out there –  the state she represents, the homelessness that's on the street that don't have any income. What about that?"
At this point, co-host Brian Kilmeade weighed in and felt it was appropriate to mention the Ku Klux Klan.
"I think on some level, Diamond, the Democrats don't want this argument, the main reason is they are the ones who gave birth to the Ku klux Klan," Kilmeade said.
"It was a Republican, Abraham Lincoln's party, that up until the 1960s, that would push back against racism. And somehow that narrative flipped."
He made no effort to explain why Republicans stopped pushing back against racism from the 1960s onwards.
"And not to mention if you look at everybody out of those Democrats out there," Richardson said. "Looked like they were auditioning to be the president of Mexico. Not America. Because I see that they want to give illegal aliens everything for free but what they want to give to US citizens is higher taxes. I don't understand that."
Watch the video above, via Fox News.