'Morning Joe': Trump Defenders Will Carry 'The Toxicity And The Cancer' For The Rest Of Their Lives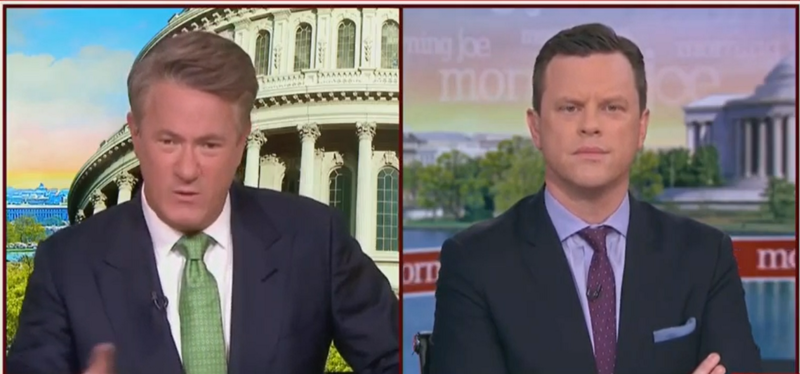 MSNBC's Morning Joe tore into President Donald Trump and his defenders Friday morning following Trump's admission that he would accept information from foreign actors about a political opponent and wouldn't call the FBI. Host Joe Scarborough was particularly critical of Senate Majority Leader Mitch McConnell for defending Trump's statement.
"That's such a lie. Willie, he's such a liar," Scarborough said of McConnell. "I'm sorry, he's just lying through his teeth. And let me tell you something, if Mitch McConnell were approached by the Chinese with dirt on his opponent in 2020, he would call the FBI."
"He would call the FBI, every other liar on Capitol Hill that's claiming that what Donald Trump did was OK, would call the FBI. They would all call the FBI. And Mitch McConnell wouldn't even answer that question because we know what the answer was to it."
"And him saying the President gets picked on too much and, quote, case closed, how sad! I mean, listen, he's got to live with himself and he's going to have to live with himself into retirement. I hope he enjoys his legacy because this is it. This and Merrick Garland, that's his legacy. Hope he's happy with it."
Guest Donny Deutsch, who is a branding expert, had similar sentiments.
"Mitch McConnell, now that the Republicans are becoming the non-democracy party, this is the same guy and the same party that would not vote for $250 million to make our voting machines safer," Deutsch said. "With all the money in our government, $250 million, let's safeguard our voting machines. No thank you, we don't want that bill."
"You were talking about McConnell's retirement. It's interesting, we opened with Sarah Sanders leaving and Kellyanne Conway hopefully soon leaving," Deutsch said. "Don't any of them understand that there is life after Trump? And this is a moment in time?"
"And do they not understand the toxicity and the cancer that stays with them after, every single one of them. You don't have to be the most potent Democratic strategist to understand that they will carry this legacy the rest of their lives."
"You know, they're going to have trouble getting jobs in Washington, DC for the rest of their lives," Scarborough said. "Especially these people that have been out lying without shame."
Watch the video above, via MSNBC.