Fox's Kilmeade Suggests Trump Org Won't Release Taxes Because It Wants To Keep The Economy Moving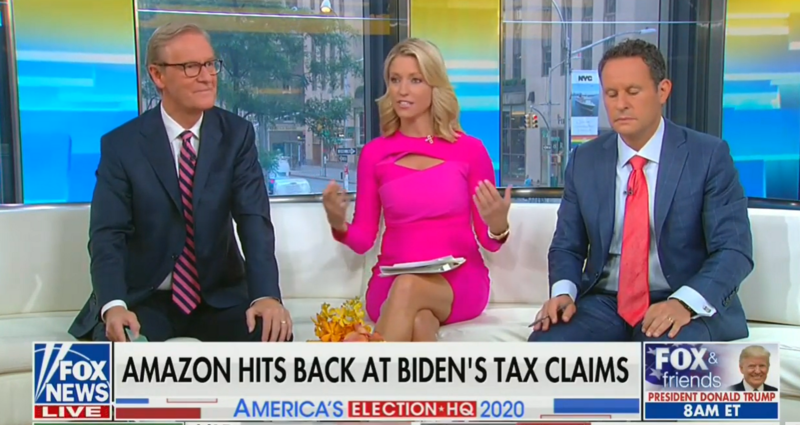 Fox News' Brian Kilmeade offered a confused and bizarre defense of the Trump Organization on Friday's Fox & Friends. In a segment about Amazon's taxes, Kilmeade felt the need to defend President Donald Trump's business from criticism.
The Fox hosts were discussing former Vice President Joe Biden's attack on Amazon for not paying taxes. The company responded to Biden, explaining that it had paid taxes since 2016, and Fox & Friends took the opportunity to defend 'incentives' to private companies.
"When you create 300,000 Jobs, so what if you get a tax break? " Ainsley Earhardt said. "That's great. We want you to come to New York. Remember when Amazon was supposed to come here and then it was squashed by all these lawmakers? It's ridiculous."
"If you hire 300,000 people, they all live in your community, right? Not only are you employing them, so they feel good about themselves and working hard but they spend money in your community, they buy houses, they pay taxes, they send their kids to school. It's ridiculous. So what if they don't pay as much in taxes as everyone else does?"
Co-host Steve Doocy talked about Biden's flip-flops and then Kilmeade weighed in with a tangential comment about the President's business.
"Exactly why the Trump Organization is not too keen on releasing their taxes," Kilmeade said.
"Because people don't understand, in the real estate business in particular, there's incentive to reinvest as opposed to just write checks because they want to keep the economy moving."
Kilmeade's comments were unprompted and made very little sense. The President has still not released any tax returns but Kilmeade was talking about the Trump Organization, not his personal taxes. It's not at all clear what argument Kilmeade was trying to make. It looks as though he saw an opportunity to defend Trump and ran with it.
Watch the video above, via Fox News.