'Morning Joe' Questions 'Frail And Fragile' Trump's Mental Health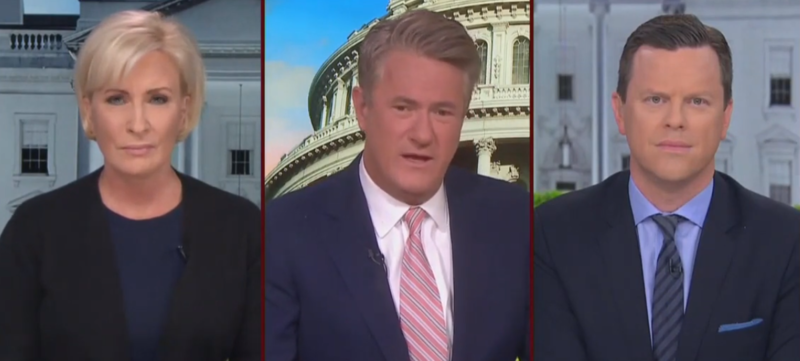 Morning Joe host Joe Scarborough spoke seriously Friday morning about President Donald Trump's mental health. His comments were prompted by Trump's statements yesterday about his meeting with Speaker of the House Nancy Pelosi, which Scarborough saw as yet more evidence of his decline.
"Again, Willie [Geist], we've all known him for well over a decade," Scarborough said. "He has changed. I know he was always selfish and self-consumed and embarrassing at times, but he's changed a great deal mentally and psychologically, emotionally he's much more frail and fragile. He just is."
"And again, it's so funny, whenever we say this, people are like, 'you're acting like you're doctors'. I'm not acting like a doctor. I'm telling you to go back, look at Donald in 1988, 1989, look at him on his Today show clips. And look at him now."
"He can't say sentences without repeating himself," Scarborough said. "When we talked to him during the campaign and during the transition, he would sit there for an hour and just repeat the same stories over and over again. Nancy Pelosi, again, is probably the sharpest, most effect of Speaker probably, since Sam Rayburn. Historians will surely mark it down that way. Again, I don't know if he's projecting, confessing or whatever he's doing, but it looks especially bad on Donald Trump."
"Just jumping become for a bit to Trump's mental health," guest Donny Deutsch said later in the segment. "I was looking at an hour interview I did in 2007 with Trump and there is even from 2007 a difference in the cadence. You could see it, you could see it in his eyes. Joe, to your point, not playing doctor, that is a guy who has lost a lot."
Watch the video above, via MSNBC.