Joe Scarborough Agrees With Mayor Pete: Trump Lied About Bone Spurs To Avoid Vietnam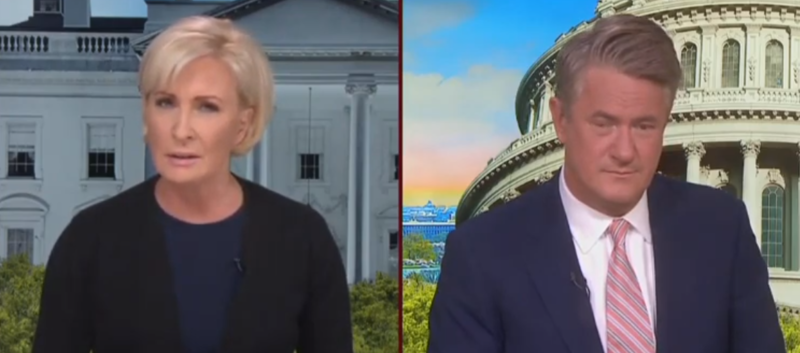 Morning Joe host Joe Scarborough agreed with Mayor Pete Buttigieg Friday morning about President Donald Trump's supposed bone spurs. The Democratic presidential candidate said he believed Trump had faked the problem in order to avoid serving during the Vietnam War, making the matter a live issue again for the first time in years.
There has always been doubt about Trump's bone spurs claim, especially since the President can't remember what foot he had them in. However, the topic waned in importance compared to other Trump stories. Buttigieg, a veteran of Afghanistan, has framed his military experience in direct contrast to Trump's.
"Also, the facts are particularly damning for Donald Trump. He can't really fight back that he dodged the draft and used his father's VIP doctor and lied to get out of Vietnam," Scarborough said.
"He can't do that. He can't hide the fact that on the day that he graduated from an elite Ivy League school that his his very wealthy father got him into, that 40 men died in Vietnam that very day, while Donald Trump had spent the last four years being a playboy on campus, playing golf, tennis, football, doing all the thing that a very active, healthy college student would do."
"Another thing, also, that probably should be troubling for Donald Trump is the fact that bone spurs don't go away, unless you have an operation or treat them," Scarborough said.
"If he has a surgery, perhaps we can see records of that or evidence of that?" Scarborough said. "But we, of course, know he never had any surgery because he never had bone spurs and he did, in fact, allow another working class American to go fight in his spot and 40 people died just the very day he graduated from college."
Though Scarborough and Buttigieg might run the risk of being called 'bone spur truthers', the issue has never been properly resolved and no medical records have been released.
Watch the video above, via MSNBC.