Fox Business Host in Mud-Slinging Contest with Chinese State TV Host, Demands an 'Honest Debate'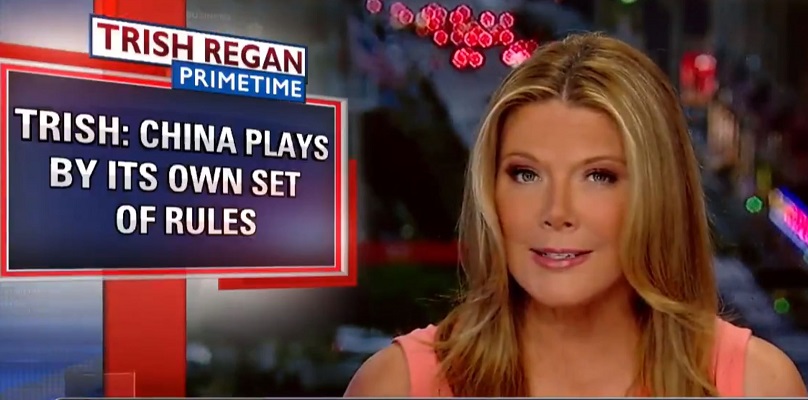 Fox Business host Trish Regan has gone full-on "Debate me, coward!" with a broadcaster on Chinese state television.
Regan has been pounding the drum recently in favor of Donald Trump's trade war with China. This got the attention of Liu Xin, a host for the Chinal Global Television Network. Xin accused Regan of sounding like a spokeswoman for the president.
Considering that Xin's network is state-run and Regan's network is more or less a propaganda arm of the Trump White House even if it is not owned and operated by the government, the layers of irony in this dust-up are already thicker than the smog in Shanghai on a bad day.
Xin said of Regan that "in carefully analyzing her words, it's all emotion and accusation, supported with little substance," suggested that Americans who didn't know better like Regan might also "clench your fists and pound the wall," and noted the "close, symbiotic relationship that the Fox channel has with the current U.S. administration."
Honestly, it was a fairly accurate if trenchant critique of Fox in general:
#China is waging an information war against the U.S. … and ME! China's state TV accuses ME of being "emotional" and stoking fear, when in reality, I was stating the facts. China IS NOT playing fair when it comes to trade. China, you picked the wrong fight! #TrishRegan pic.twitter.com/6b4mwZzRBt

— Trish Regan (@trish_regan) May 23, 2019
Hey #China State TV – let's have an HONEST debate on #trade. You accuse me of being 'emotional' and not knowing my facts – wrong! You name the time and place, and I'll be there! #TrishRegan pic.twitter.com/D0QMp0cIz4

— Trish Regan (@trish_regan) May 24, 2019
Regan got mad at Xin for calling her "emotional" and played the sexism card:
Thank you, Sen @marcorubio Apparently, a woman who doesn't like the idea that our country's future is being stolen, is "emotional" with eyes that "spit fire" in the view of #China's state media.

You bet I'm emotional. Every woman, every man should be. It's OUR future.

— Trish Regan (@trish_regan) May 24, 2019
Liu answered:
I hear you. Will get back to you very soon. But I don't want to play any mud throwing game, if that's what you prepare to do. https://t.co/ytXZN5Lk2m

— LIU Xin (@thepointwithlx) May 24, 2019
As of now, no debate is yet scheduled.