Trump Suggests He Shared Deceptively Edited Video of Pelosi to 'Help the Country'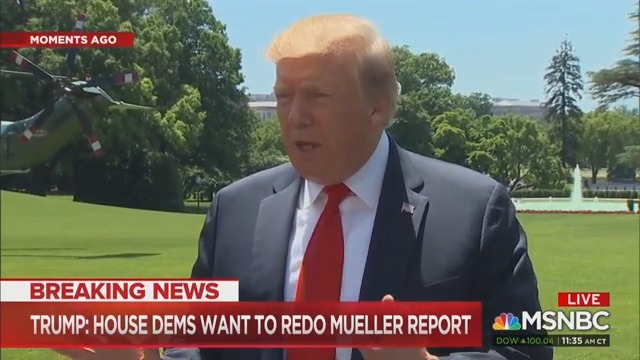 A day after President Trump shared a deceptively edited video of Speaker of the House Nancy Pelosi supposedly stammering through her press conference on Thursday, he suggested to reporters that he tweeted out the clip to his tens of millions of followers to "help the country."
During his increasingly personal and vicious back-and-forth with the speaker following an aborted White House meeting on infrastructure that resulted in Trump declaring that he won't work with Democrats as long as they're investigating him, Pelosi described Trump as throwing a temper tantrum while expressing concern for his mental fitness. This has prompted Trump to fire back while forcing aides to vouch for his calm demeanor.
In the meantime, a slew of doctored videos of Pelosi blew up on social media. The videos, showing Pelosi speaking at a conference this week, were slowed down to make it appear that the speaker was drunkenly slurring her speech. After the Washington Post reported on the fake videos (and Fox News matched the reporting), Fox Business program Lou Dobbs Tonight aired a cleverly edited and chopped up clip of Pelosi's press conference that made it appear that she stammered through the presser incoherently. Additionally, a number of Trump-supporting guests and host Gregg Jarrett portrayed Pelosi as senile, over the hill and mentally unbalanced.
Shortly after the video was aired, the president shared it on his Twitter account and even pinned it to the top of his timeline. (His attorney Rudy Giuliani, meanwhile, tweeted out one of the original doctored videos.)
Speaking to reporters Friday on the White House South Lawn before leaving for a multi-day Japan trip, the president was asked if his relationship with Pelosi had "soured to the point of being too personal" and if the altered videos being disseminated was going "too far."
"Well, I don't know about the videos," Trump replied, before adding, "I can tell you what I'm here is to help the country. That's why I did this."
After bragging about the economy, claiming he can work with the speaker, and repeating his familiar mantra of "no collusion" about the Mueller report, Trump was once again asked about his personal attacks on Pelosi.
"Excuse me, this shows how fake you and the news are," Trump complained. "When you say a personal attack. Didn't you hear what she said about me long before I went after her? Didn't you hear? She made horrible statements. She knows they're not true. She said terrible things. I just responded in kind."
Watch the clip above, via MSNBC.