Fox News Audience Cheers For Trump To Use 1807 Insurrection Act To Remove Immigrants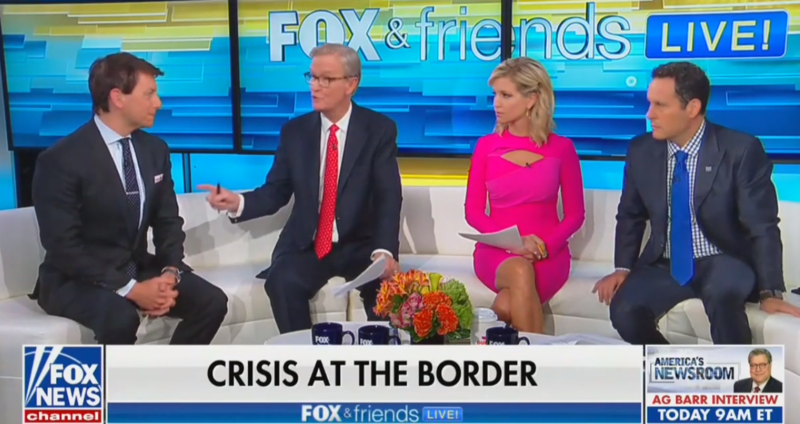 Fox & Friends hosted a studio audience Friday and the results were predictable but interesting. The audience, who were seated near the usual hosts and occasional guests, frequently clapped and cheered with approval when they heard something they liked, which was likely the reason they were there.
There was one awkward moment, however, when the studio audience cheered for a bizarre suggestion about how President Donald Trump should deal with immigration. The hosts were interviewing White House Deputy Press Secretary Hogan Gidley, who was doing a good job toeing the administration's line. But then Steve Doocy threw him a curve ball.
"There's a suggestion, I think I was reading The Washington Post this morning. They were repeating what was in The Daily Caller yesterday how people in the administration are talking about using the Insurrection Act, which hasn't been used in a long time. It let's the President use the military to combat lawlessness or rebellion or to remove illegal immigrants. Is the administration considering the Insurrection Act?"
Gidley attempted to avoid giving a straight answer, but Doocy pushed him to discuss the law, signed by Thomas Jefferson and once used to declare war against the rebelling Confederate states.
"Is that a yes or no?" Doocy asked.
"He is going to do everything in his authority," Gidley said.
"That's a yes," host Brian Kilmeade jumped in, smiling. The audience cheered and clapped at the idea, but Gidley seemed genuinely taken aback and tried to walk back the idea. However, Kilmeade pushed on as though Gidley had confirmed the administration would use the old law.
"I think that would be great," Kilmeade said. "Last time we used it, I believe, was the L.A. Riots, where the military came in and said we are going to need military presence there. The military is there but they can't do as much as they want."
Kilmeade is correct that the Insurrection Act was invoked during the 1992 Los Angeles Riots, but the Fox News' hosts interpretation of the controversial law is flawed. The original act was passed in 1807, but amendments made in 2006 seem to preclude its use by the Trump administration.
The Act now requires that 'domestic violence has occurred to such an extent that the constituted authorities of the State or possession are incapable of maintaining public order' before the President can invoke its powers. While the L.A. Riots might have fit that description, the situation at the southern border does not. Nor is it clear that the law empowers the President to expel immigrants, illegal or otherwise.
Watch the video above, via Fox News.