Fox News' Jedediah Bila Criticizes Trump's Use Of Nicknames, Bickers With Co-Hosts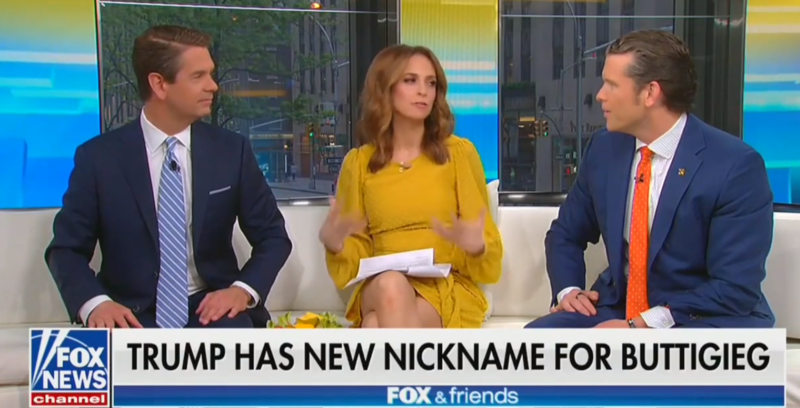 Fox News host Jedediah Bila criticized President Donald Trump's use of nicknames on Fox & Friends Saturday. Trump likes giving his political opponents unflattering nicknames, which has seen him accused of insensitivity and even racism.
Trump's latest nickname is for South Bend Mayor Pete Buttigieg, who is running for the Democratic presidential nomination. Trump referred to Buttigieg as Alfred E. Neuman, a character from Mad Magazine, who may not be very familiar to people of younger generations.
While co-hosts Pete Hegseth and Griff Jenkins liked the joke, Jedediah Bila seemed to depart from the usual Fox News script and question Trump's use of nicknames.
"See, I get why people think it's funny, I really do, but I don't love it, I think it undermines his ability to his those independent voters," Bila said.
"Who's ability?" Hegseth asked.
"President Trump," Bila said.
"Oh, come on! This is what he does," Hegseth yelled.
"This is great for the base, this is great for Pete Hegseth," Bila said. "I think it works. People laugh and they smile. I have a sense of humor. I get it but I think when you are trying to reach those people in the middle, when you're trying to reach those people who may go over to a Joe Biden who may be intrigued by a Buttigieg, I worry that this turns them off, kind of like the Pocahontas nickname. It's great for the base, you gotta win a general election."
"No, I think it reaches the heart of what people are gonna say," Hegseth said, speaking over her. "They're going to say, Mayor Pete, nice kid, smart, just not there yet. Not ready to stare down China."
"But he's making fun of him, man, does he have to go there?" an uncomfortable-looking Bila asked.
"Of course he does," Hegseth said.