Diamond And Silk Tell Fox & Friends Women Murder Newborn Babies, Go Unchallenged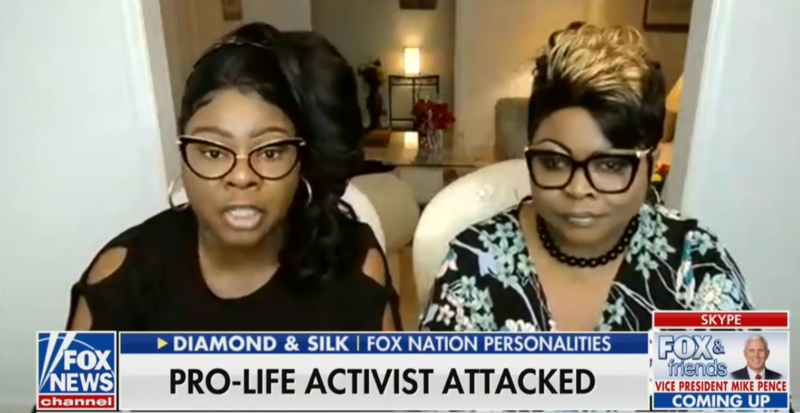 Fox Nation personalities Diamond and Silk (Lynnete Hardaway and Rochelle Richardson) appeared on Fox & Friends Friday morning and spread a right-wing lie about abortion. Hardaway and Richardson claimed that babies were being killed after birth, a totally fabricated conspiracy.
The conservative duo were asked to comment on what Fox News reported as an assault of a Pro-Life activist by a Pro-Choice activist. Naturally, the pair disapproved of any form of assault but also launched into an attack on abortion generally. The Pro-Life campaigner was displaying images of what Fox & Friends said were images showing the 'reality' of abortion.
"Well you know what? It's OK to be triggered but it's not OK to assault someone," Hardaway said. "And let us understand, you have to realize when it comes to liberals what triggers them is the truth."
"Now if she supports abortion she should be OK with these images," Hardaway said. "But these images are horrifying and this is what women are allowed to you do to their bodies. To kill babies. It's what they're doing. So Maybe it's time for us to take a look and evolve into something greater and let's stop killing our babies and stop discarding them as if they're trash. These are human lives and maybe it's time to save human lives."
These were pretty standard Pro-Choice from the conservative duo, but later in the segment Hardaway pushed the idea that newborn babies can be killed, a lie that President Donald Trump has been spreading.
"It's time for us to become aware," Hardaway said. "There's a problem. We have women, OK, with killing our babies, with murdering them after the baby is born. That is a problem. We don't get to discard human life as if it's trash. It's time to save babies."
The Fox & Friends hosts made no attempt to challenge this claim.
Watch the video above, via Fox News.