Fox Media Analyst Covers Trump's Call for Fox News to Take Judge Napolitano 'Off the Air'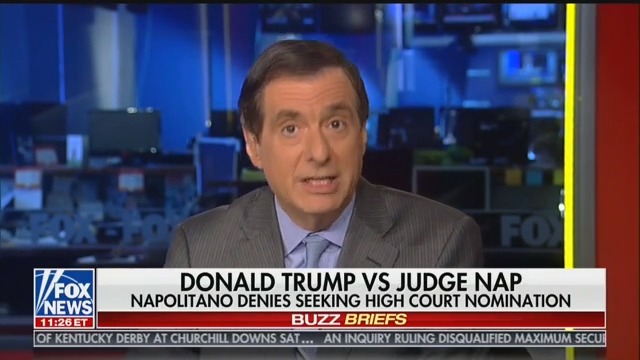 More than a week after President Trump accused Fox News senior judicial analyst Judge Andrew Napolitano of asking him for a Supreme Court seat and a pardon for a friend in response to Napolitano's analysis that the president committed obstruction of justice, Fox News media analyst Howard Kurtz covered the allegations on the air while also discussing the president's recent retweet of an obscure account calling on Fox News to take Napolitano "off the air."
Early Sunday morning, the president amplified an account with a couple of hundred followers going by the handle @HH41848213, posting the account's criticism of Napolitano to his timeline.
"When you look at the continuous incorrect statements by Napolitano over the past 2 years, it is fair to ask FNC why they allow him to have national air time," the account wrote. "The man has been significantly wrong on at least 8 major occasions. Unacceptable! Take him off the air!"
Trump citing well-known legal expert HH4184848213 to refute the legal arguments made by a judge. pic.twitter.com/wCI2VcH2HI

— Justin Baragona (@justinbaragona) May 5, 2019
During his weekly Fox News media analysis program MediaBuzz on Sunday, Kurtz brought up the tweet along with Trump's pointed jabs at the judge last month. Covering the president's accusatory tweets, Kurtz noted that Napolitano denied that he asked for Supreme Court spot during an interview with Fox Business Network's Maria Bartiromo last week.
Kurtz went on to highlight that Napolitano called Trump's swipe at him "brilliant" because he was diverting attention from Special Counsel Robert Mueller's findings, adding that the judge said he and Trump "have been friends for 30 years and probably will be for the next 30 years."
"Maybe," Kurtz noted, highlighting the president's Sunday morning retweet calling for Napolitano to be taken off the air.
Fox News had initially been silent on the president's allegations that their senior judicial analyst had approached him for a Supreme Court appointment and pardon for a friend, with Kurtz failing to make any mention of it during last week's MediaBuzz broadcast or subsequent network appearances. The network also declined to comment when asked by media reporters and didn't respond when Contemptor reached out.
Watch the clip above, via Fox News.