Fox News Silent on Trump's Accusation That Judge Napolitano Asked for Supreme Court Spot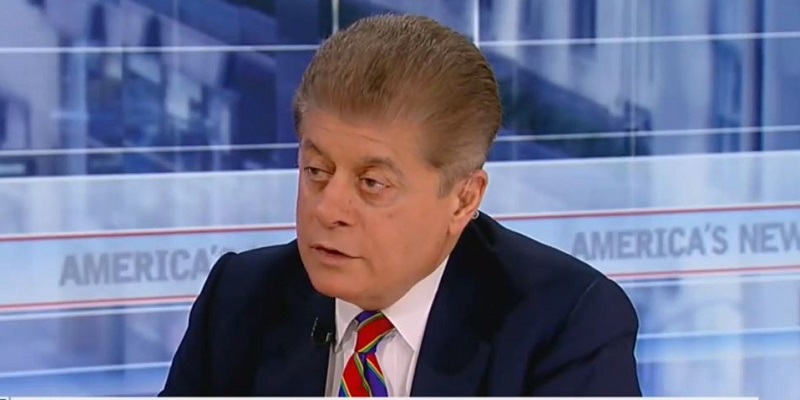 Fox News has yet to publicly respond to President Trump's Saturday night accusation that Fox News senior judicial analyst Judge Andrew Napolitano requested Trump appoint him to the Supreme Court and asked for a "pardon for his friend." The network also has not mentioned the issue on its airwaves, and this includes Fox News' weekly media analysis/criticism program MediaBuzz.
Obviously peeved about Napolitano's recent commentary arguing that the Mueller report revealed numerous instances of Trump obstructing justice and that the president's "behavior is unlawful, defenseless and condemnable," Trump praised attorney Alan Dershowitz — who has become a regular on-air defender of the president's — for "destroying the very dumb legal argument of 'Judge' Andrew Napolitano" during a Friday night appearance on Fox News' The Ingraham Angle.
"Ever since Andrew came to my office to ask that I appoint him to the U.S. Supreme Court, and I said NO, he has been very hostile! Also asked for pardon for his friend. A good 'pal' of low ratings Shepard Smith," Trump added in another Saturday evening tweet.
Despite the president making very explicit accusations about a Fox News on-air personality in a series of tweets that drew a lot of attention, Fox News has not covered the story on its main network as of publication. Perhaps most glaringly, Fox News media analyst Howard Kurtz did not discuss during his Sunday morning media show MediaBuzz.
We reached out to Fox News for comment on the allegations made by the president on Sunday but have yet to hear back. Other media reporters have said that Fox News is declining comment on the situation.
Napolitano, however, has addressed the accusations, but not on Fox News. Instead, appearing on FNC's lower-rated sister network Fox Business Monday morning, Napolitano told Fox Business host Maria Bartiromo that he did not ask Trump for a Supreme Court seat, claiming Trump asked Napolitano to provide "a spiel as to why I should put you on" during conversations about possible replacements for the deceased Antonin Scalia during Trump's transition. Napolitano also claimed that Trump brought up a "mutual friend" of theirs, asking the judge if his conviction was legitimate.
While Trump is a pathological liar who routinely claims that those who have drawn his ire previously "begged" for jobs, endorsements or money, Politico did report in March 2017 that Napolitano was telling friends that the president put him on a Supreme Court shortlist. The only question, it appears, is who did the asking
The Fox News analyst, meanwhile, appeared on Fox News later Monday morning. During his short segment with Fox News anchor Jon Scott, the conversation focused solely on Cook County State's Attorney Kim Foxx and the possibility that she may face a special prosecutor over the Jussie Smollett case. Scott did not bring up the president's tweets.
As Matt Gertz of liberal media watchdog group Media Matters noted on Monday afternoon, "a normal news outlet facing a charge from the president of ethical improprieties by its staffer would want to find out what actually happened and either repudiate the allegation or punish the employee" but could find itself in a "horrible conundrum" if it investigated this further.
From Gertz's piece:
If the network looks into it and finds that Napolitano is telling the truth, would Fox be willing to publicly stand by its staffer and say that Trump is lying, even if that risks driving a wedge between the network and the president (one in which its audience would likely side with the latter)?
If a network probe finds that Trump is telling the truth, would the executives punish their staffer (something they are usually loathe to do) or would they ignore it and risk the (unusually appropriate) ire of the president?
But if Napolitano does face discipline, it will be obvious that it is only happening because the president was angered by his commentary. Fox has set the precedent that the network has no problem with interactions between Trump and its personalities — an arrangement no other outlet would accept. It's difficult to draw a distinction between what Trump alleged and, say, his interactions with Fox host and pro-Trump sycophant Jeanine Pirro, other than that Trump approves of Pirro's commentary and doesn't approve of Napolitano's.
This isn't the only recent story that Fox News has been silent on involving its staffers. Last week, The Daily Beast and other media outlets reported on leaked emails that featured Fox News reporter Jon Decker scolding two of his colleagues for defending the president's Charlottesville "both sides" response. Fox News correspondent Doug McKelway, one of the reporters Decker chastised, would later troll one of the Daily Beast writers on Twitter, obviously as a reaction to the story. The network has remained publicly quiet on the email story and McKelway's tweets.