Sex Creep Mark Halperin's Apology Tour Lacks Genuine Redress for the Women He Harassed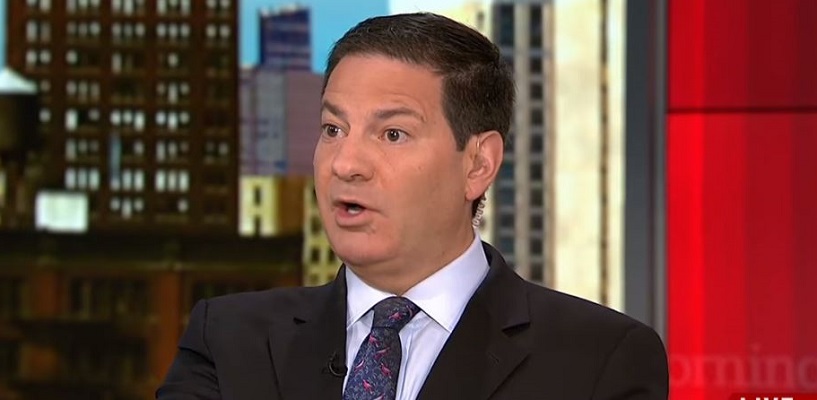 Disgraced sex pest Mark Halperin is not limiting his attempted comeback to groveling on Michael Smerconish's Sirius show.
The Daily Beast reports that Halperin's recent limited return to visibility is part of a "quiet yet calculated political rehabilitation campaign" orchestrated with the help of Joe Scarborough and Mika Brzezinski.
That the Morning Joe pair would help Halperin is not really surprising. He was a panelist on the show for years before being fired as a political analyst by both MSNBC and NBC News when the sexual harassment allegations against him surfaced in the fall of 2017.
What is surprising — or, more accurately, arrogant, tone-deaf, clueless, and a few other adjectives — is the extent and the timing of the reported effort. Sources told The Daily Beast that Scarborough and Brzezinski worked last fall to collaborate with Halperin on an online-only program analyzing the 2018 midterms without telling their bosses at MSNBC. This was only one year after his exile, when feelings about him are, rightfully, still raw.
Unsurprisingly, the network brass went apparently went nuts and shut the project down.
The Beast story also details Halperin's other efforts at apparent networking. He was spotted having lunch in Washington, D.C. with Kellyanne Conway. He has also started a blog and started tweeting again. One of the story's reporters, Max Tani, tweeted on Friday morning that Halperin has been privately texting some of his former media colleagues and asking them to engage with his tweets, presumably to help raise his profile. Which is, quite honestly, pathetic.
What none of the people involved in this effort to rehab Halperin's career seem to have bothered asking themselves is whether the world has really missed Mark Halperin in the first place.
Very few media figures have been more responsible for the rise of glib, useless political commentary than Halperin. His brand of surface-level observations masquerading as some sort of deep thought has long been criticized for its essential uselessness. His is not so much a talent as it is an allegedly savvy political insider handicapping every politician's move like a tout hanging on the rail at Belmont. His biggest contribution to the 2016 presidential election was watching debates and handing out grades to the candidates with no apparent criteria other than whatever savvy, insidery thoughts were rolling through his head.
For all of this, Halperin has been richly rewarded. He made millions of dollars off of campaign books written with his longtime partner, John Heilemann, along with Showtime's The Circus, a documentary series offering a behind-the-scenes look at the 2016 campaign. His exorcism from the media world cost him millions in income from these and other projects.
But most tragically of all, apparently to those trying to help his comeback, is summed up in what Smerconish told The Daily Beast in an email: "My view is that to not let him opine after 2 yrs would be akin to a professional death sentence."
As a shark must keep swimming or it will die, so must Mark Halperin be allowed to opine about politics on national platforms lest he meet his maker.
Here's what I would like to see Brzezinski and Scarborough and Smerconish wrestle with. Halperin's harassment of multiple women during his years at ABC News — he was accused of grabbing one woman's breasts, rubbing his penis against another's shoulder while she sat in a chair, and propositioning several women for sex — was so traumatic for some of them that they left journalism. Others said that they did not report Halperin at the time because he was so powerful that they feared accusing him could end their careers.
In other words, Halperin's harassment was a professional death sentence for many of the women he harassed. None of them are getting career rehab tours featuring spots on a national radio show or segments on Morning Joe devoted to them.
Maybe these powerful media figurees could pay attention to those women and the good journalism from them that may have been lost, and leave Halperin alone to sadly whisper his useless grading of presidential candidates to the TV in his empty living room.