Sarah Huckabee Sanders Defends Trump's Inflammatory Language: 'He Has a Heart for People'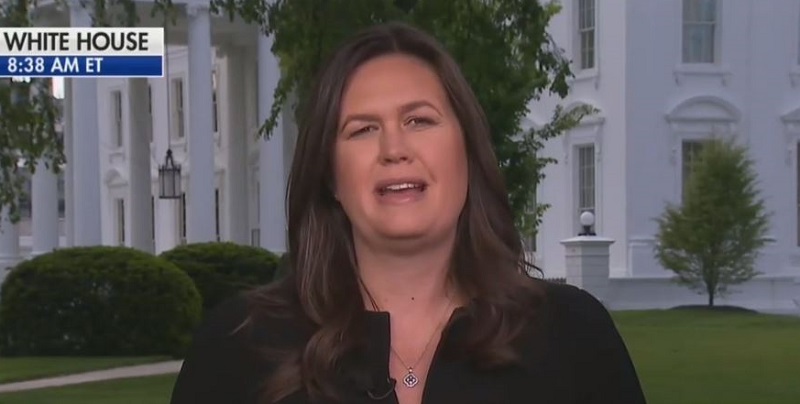 White House Press Secretary Sarah Huckabee Sanders tried to defend President Trump against an accusation that his inflammatory rhetoric is radicalizing and emboldening white supremacists like the teenager accused of shooting up a synagogue in California over the weekend.
Sanders appeared on Fox & Friends on Monday morning, where Brian Kilmeade asked for her response to criticism from commentator Matt Dowd of ABC. Dowd had said on Sunday's episode of This Week that Trump "needs to look in the mirror, understand the rhetoric, the words he uses in all this inflame a part of what is going on in America. They give permission to the most craziest people in America."
The press secretary responded that "nothing could be further from the truth. We have a president that has a heart for people." She went on to say that the president has condemned racism and bigotry and also that "words like that are not helpful to this process."
This was a slightly different spin than Sunday's CNN appearance by Kellyanne Conway, who was more concerned with cleaning up Trump's two-year-old comments about "very fine people" that he made after the Charlottesville riots than with the larger issue of how the president has encouraged white supremacists in the first place.
Sanders also took a question from Steve Doocy about when the administration will roll out an immigration reform plan supposedly being put together by presidential son-in-law Jared Kushner. Sanders said the plan will be presented soon, then pivoted to attacking and blaming Democrats for not joining the administration in taking "immediate steps" to secure the border.
Left unmentioned: Democrats made a deal with the president to fix the DACA program in exchange for funding his border wall, only to have anti-immigration hardliners within the administration blow it up. Also unmentioned was that the president himself initiated a disastrous government shutdown earlier this year when he refused to fund the government unless Congress appropriated money for the wall.
In other words, Democrats are not the problem here. It is the anti-immigration hardliners in the administration and among the president's base who are keeping anyone from finding a solution.
Watch the video up top, via Fox News.