Meghan McCain Uses Synagogue Shooting as Excuse to Attack Ilhan Omar With False Smear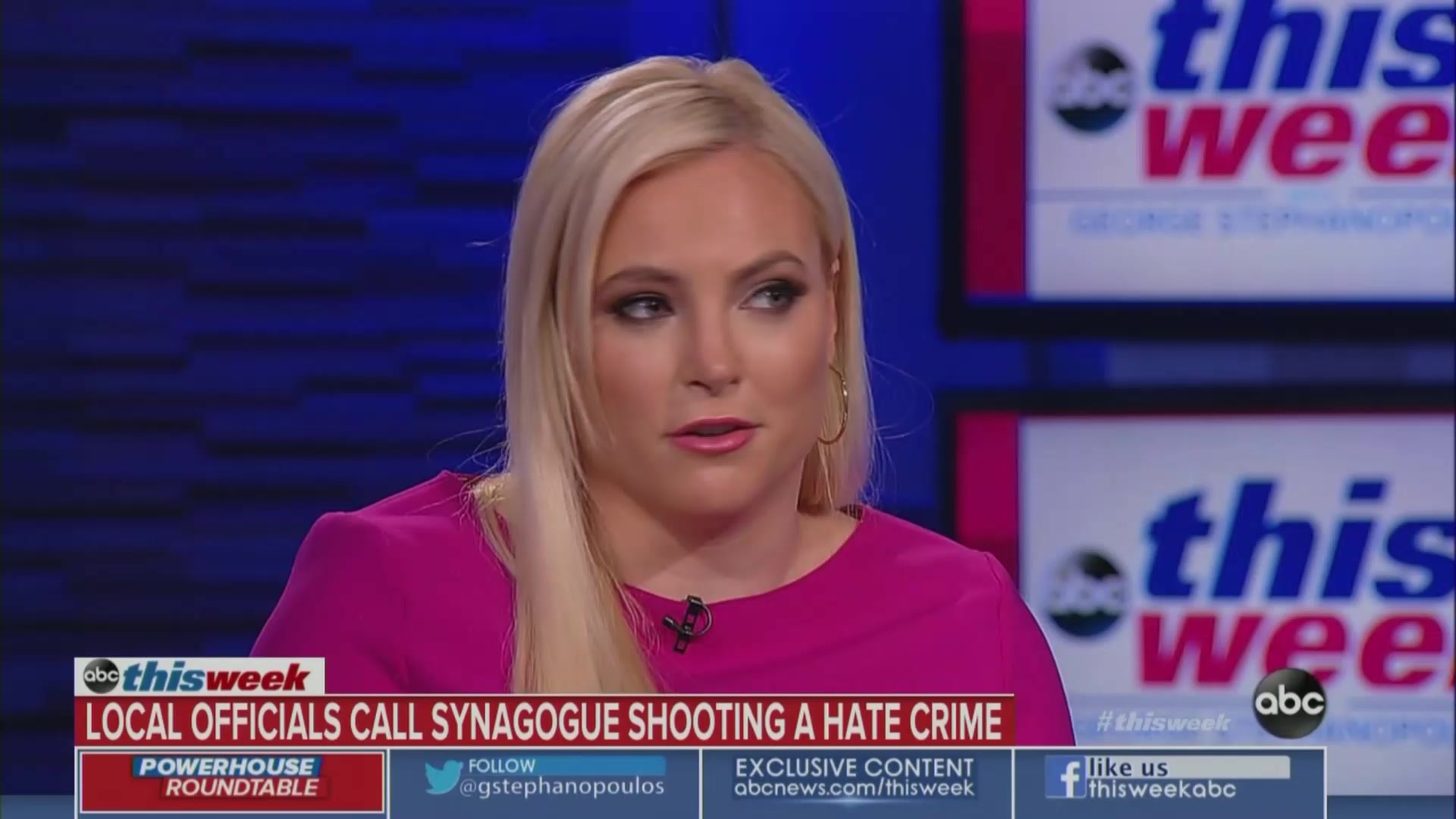 During a This Week panel discussion on the Poway synagogue shooting that left one dead and several injured, The View co-host Meghan McCain asserted that "both sides" were responsible for the spread of antisemitism and hate before falsely accusing Rep. Ilhan Omar (D-MN) of saying "Jewish people had hypnotized the world."
On Saturday, 19-year-old gunman Josh Earnest opened fire on the Chabad of Poway in San Diego County, killing one woman in the synagogue. Earnest apparently also wrote a manifesto and posted it to 8chan, an internet message board popular with white supremacists and alt-right extremists, that was similar to the one left by Christchurch mosque shooter Robert Tarrant, who killed 50 people last month. Besides praising Tarrant and Pittsburgh synagogue shooter Robert Bowers, Earnest also claimed he set fire to a mosque in Escondido a week after the New Zealand terror attacks.
McCain, who weeks earlier cried on air because she said Omar's purported antisemitism impacts her "personally," took the opportunity Sunday morning to somehow tie Omar to a right-wing white nationalist inspired by other white supremacists. And in order to bolster her case, she lied about something Omar never said.
"When we're having conversations about antisemitism, we should be looking at the most extreme on both sides," McCain said. "And I would bring up Congresswoman Omar and some of her comments that got so much attention."
She continued: "And in my opinion, Nancy Pelosi wasn't hard enough in her response to her trafficking in antisemitic language, talking about 'it's all about the Benjamins' and how Jewish people had hypnotized the world. When you talk rhetoric and you want to talk about President Trump, and by the way, I agree he needs to have his feet held to the fire as well but we're talking about it on both sides of the aisle as well."
Now, aside from the ridiculous both sides-ism being applied here and the fact that she said this before a table of all-white panelists and felt comfortable easily getting away with it, McCain's criticism of Omar includes something the Minnesota lawmaker never said or wrote.
McCain is referencing a 2012 tweet in which Omar said that "Israel has hypnotized the world, may Allah awaken the people and help them see the evil doings of Israel." After taking office in January 2019, Omar would apologize for the tweet over the implication that she was pushing an antisemitic trope by using the word hypnotize to describe the belief that Israel was tricking the world into supporting it.
While Omar apologized for the years-old tweet and acknowledged it could be seen as antisemitic, she did not expressly say "Jewish people had hypnotized the world," as Meghan alleged. This is a disingenuous and dangerous sleight of hand by McCain, especially considering that Omar has been on the receiving end of increased death threats in recent weeks. If you have to purposely misrepresent what someone is saying, likely your argument has little to no merit.
Following her appearance, a number of observers and critics wondered why McCain suddenly became the go-to expert on antisemitism.
Our people are dying and Meghan McCain continues to pretend Ilhan Omar is to blame. It's horrifying and dangerous, and McCain needs to be held to account. https://t.co/caNUYOWuiC

— Eli Valley (@elivalley) April 28, 2019
W/o getting into other critiques Meghan McCain is both completely ignorant abt anti-Semitism and, to put it mildly, not Jewish. How does she keep getting called on to discuss anti-Semitism? What the actual fuck?

— Josh Marshall (@joshtpm) April 28, 2019
It is extremely good to me that Meghan McCain continues to appear on political television shows as an authority on antisemitism, just given that she doesn't know anything about that or any other subject, and also can barely talk.

— David Roth (@david_j_roth) April 28, 2019
Why on earth is Meghan McCain constantly being asked to comment on anti-semitism? She's not Jewish and her only reliable contribution to discussions on anti-semitism is to attack women of color and oh I just answered my own question.

— Leah Greenberg (@Leahgreenb) April 28, 2019
It's very strange that people ask Meghan McCain what she thinks about anti-semitism as though she thinks.

— maura quint (@behindyourback) April 28, 2019
Watch the clip above, via ABC News.