Fox News Reporter Scolds His Colleagues For Sounding Like 'White Supremacists' Over Charlottesville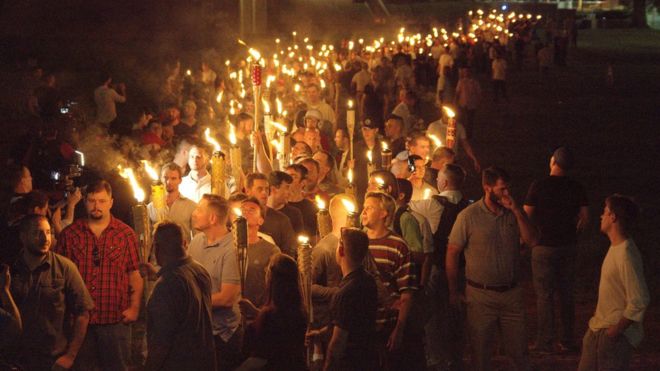 Fox News reporter Jon Decker recently tore into two network colleagues for sounding as if they were in a "White Supremacist chat room" for defending President Trump's much-derided "very fine people" remarks about white nationalists in the aftermath of the Unite the Right rally in Charlottesville that resulted in the death of Heather Heyer.
In emails first published by FTV Live and later obtained by The Daily Beast and other outlets, Following former Vice President Joe Biden's video announcing his presidential bid that invoked Charlottesville and blasted Trump for blaming the violence on "both sides" while describing neo-Nazis as good people, Fox News report Doug McKelway blasted out an email to other Fox News employees that referenced a (supposed) Winston Churchill quote to claim Trump had been misrepresented.
"Putting this Biden statement out there, next to Trump's original presser, and a live interview I did in C-ville with 'good people on both sides'" McKelway wrote before adding "A lie gets halfway around the world before the truth has a chance to get its pants on."
Per the Beast, McKelway went on to contrast Biden's comment with quotes from Trump that right-wing outlets have used to assert the president was not defending white supremacists during his infamous remarks on Charlottesville. He also provided a quote from a Unite the Right attendee who told McKelway: "They're denying people their right to assemble. They're denying their right to speak freely, however hateful their views may be."
Fox News digital editor Cody Desperina followed that up by agreeing with McKelway while highlighting parts of an interview with Jarrod Kuhn. Desperina framed Kuhn as someone who just attended the Friday night rally to protest the removal of a Robert E. Lee statue and was later harassed by Antifa at his home after leaving the protest on Saturday.
This is when Decker jumped into the conversation. Telling Desperina that he didn't "understand the point you are making," Decker added: "Jarrod Kuhn was one of those individuals in Charlottesville holding a tiki torch while the mob chanted 'Jews will not replace us.'"
McKelway somewhat walked back his position, noting that one of his interview subjects was actually a white supremacist and "not the squeaky clean 1st amendment supporter he claimed to be on live TV," prompting to Decker to fire back: "So much for your Winston Churchill quote."
In a separate email, meanwhile, Decker blasted both Desperina and McKelway.
"Based upon the slew of emails that I've received today, both of you ought to send an apology to your Fox colleagues -– many of whom are hurt and infuriated by your respective posts," he wrote. "Your posts read like something you'd read on a White Supremacist chat room."
While Decker righteously stood up to his Fox News colleagues for their remarks, many on-air Fox News personalities and other conservative pro-Trump media organizations have made these same arguments and equivocations in order to defend Trump and brush aside the violence perpetrated by white supremacists. And considering the president doubled-down on his "very fine people" comments on Friday morning while boasting about Robert E. Lee, one can only expect that these defenses will rise again from the expected sources.