Morning Joe And Guest Wonder: Do Biden's Gaffes Matter When Trump Is President?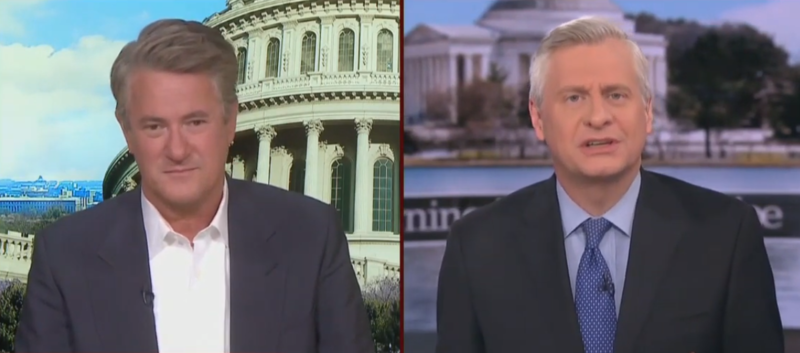 Former Vice President Joe Biden is now officially in the presidential race, but his history of gaffes and potentially offensive statements could pose a problem. On Fox News Thursday morning, Fox & Friends repeatedly showed a super cut of Biden's gaffes.
But with President Donald Trump in the White House, do Biden's past statements really matter? MSNBC's Morning Joe tried to tackle the thorny issue. Host Joe Scarborough discussed it with presidential historian Jon Meacham.
"Jon Meacham, let's talk about Joe Biden as a campaigner and look over the arc of history," Scarborough said. "Joe Biden has been an undisciplined candidate. Not only in '87 but he said a few things about an Indian American in 2007 and convenience stores and then said something, obviously said something about Barack Obama and that struck many people as offensive."
"And so I guess the question is, are there examples of candidates that you can think of that changed their ways? Can you teach, an old dog, as they say in the south, new tricks?
"Somewhat," Meacham said. "You can at least make them limit their tricks to certain moments."
"By the way, shock collar is not allowed to be part of the answer," Scarborough joked.
"Yes, he's done all those things but Donald Trump is President. So what the hell do we know?" Meacham said.
"The whole topography of American politics has changed. And it seems to me that there's almost nothing Biden could have said or said that would somehow startle a public that has become, I think tragically but undeniably, largely inured to people saying things that even five years ago, we would have solemnly sat and said, 'Oh, that is the end of this person."
"It's an era of redemption," Meacham said. "It's an era of new episodes, of reality TV that is actually out reality. You could make a case, fairly facile one, but why not, that Biden's incredibly operatic life of highs and lows, of tragedy and comeback, of endurance and durability, is not a bad counter programming. Again, forgive me for putting it in these terms but we might as well talk about it, at least in sociological ways.
"Trump has put on one show. Biden has a narrative plot,  a narrative story to tell. If we're going to be trapped in this world, Biden's a pretty good show to put up against that."
Watch the video above, via MSNBC.