Fox & Friends: Joe Biden's Been In The Swamp A Long Time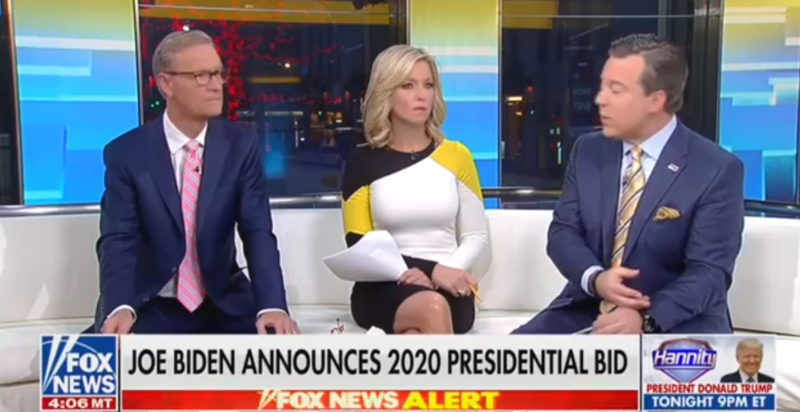 Former Vice President Joe Biden announced his candidacy for the Democratic presidential nomination Thursday morning. His announcement video dominated the cable news shows and over at Fox News, some very familiar talking points cropped up.
Fox & Friends reacted to Biden's announcement by revisiting some of the things Fox News' hosts have been saying about Biden for weeks. In anticipation of his presidential run, the network's personalities have brought up an old plagiarism scandal, the 1994 Crime Bill and Biden's behavior with women. Thursday morning's coverage was no different. Fox & Friends' verdict on Biden: too old, too centrist, too much like Hillary Clinton.
While hosts Steve Doocy, Ed Henry and Ainsley Earhardt hit all the usual talking points, they suggested yet again that the Democrats could have a brokered convention next year. This is fast becoming a favorite point of speculation for the Fox News morning show.
"Some are saying they could actually go into the convention without having a candidate. The Democratic Party is split," Earhardt said, without offering any evidence.
"That would be a disaster for bartender Bernie Sanders supporters," Doocy said.
They then showed a clip of conservative radio personality Rush Limbaugh, who frequently pops up on Fox & Friends, before going on to briefly discuss a New York Magazine article comparing Biden to Jeb Bush. Finally, the hosts offered a Hillary Clinton comparison.
"He [Bush] was inevitable and same thing for Hillary Clinton if you think about it," Henry said. "It's inevitable, she could get the Democratic nomination. That's one of the reasons why the folks on the left are resistant to Joe Biden. They don't wants the inevitable candidate. They want to fight this out and see who's gonna push."
"What happened is you had President Trump enter the race and he was saying he was fighting the establishment. Drain the swamp. Fight the establishment. He was a different candidate. That's what many people are saying about Bernie Sanders on the Democratic side," Earhardt said.
"Joe Biden's been in the swamp a long time," Henry said.
" 76-year-old," Earhardt said. Donald Trump is 72.
Watch the video above, via Fox News.