Fox's Napolitano Calls Trump's Behavior 'Criminal,' Says He Obstructed Justice in Mueller Probe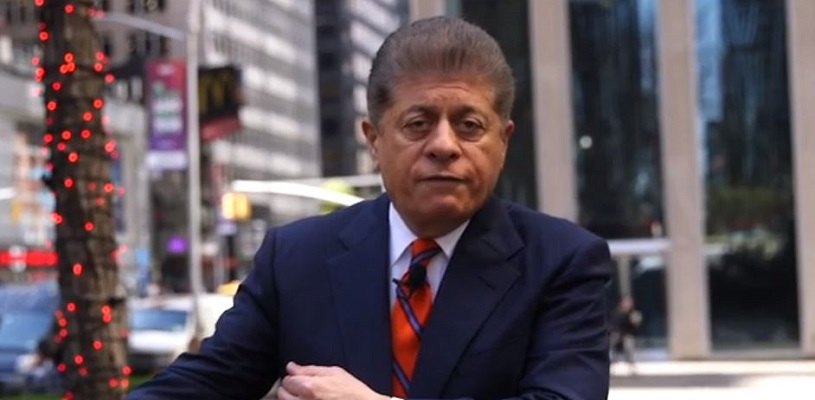 Judge Andrew Napolitano excoriated Attorney General William Barr's conclusions about the Mueller report in an op-ed published Thursday in which he also condemned Donald Trump's behavior and concluded the president did commit obstruction of justice.
And yes, the op-ed was published on Fox News' website.
In the op-ed and a video, Napolitano walked through the three main conclusions of the Mueller report. The first two related to whether or not Russia meddled in the 2016 election and whether Trump and his campaign conspired with the Russians in their efforts. As everyone knows at this point, Mueller could not find enough evidence on the second point to charge Trump or any of his associates with conspiracy.
Napolitano then went through the third conclusion, which sprang from the question of whether Trump obstructed justice at any time to stop the investigation. Mueller, knowing that Barr does not believe a president can be charged with obstructing justice, declined to state either way. The conventional wisdom is that he was leaving it up to Congress to decide.
For Barr, this was the opening he needed to declare that the president had not obstructed justice. In his view, since Mueller had not charged Trump with conspiracy, there was no underlying crime to cover up. Therefore, the president was within his rights to try to stop the investigation.
In doing this, Napolitano says, "Barr was wrong."
"The nearly universal view of law enforcement," Napolitano writes, "is that the obstruction statute prohibits all attempted self-serving interference with government investigations or proceedings." In other words, trying to stop an investigation itself is obstruction, no matter the motive or ultimate results of that investigation.
Because Trump attempted multiple times to end the investigation "to save himself from the consequences of his own behavior," Napolitano concluded that those actions were "unlawful, defenseless and condemnable." In the video accompanying the post, he goes so far as to call Trump's behavior "criminal."
Napolitano has been one of the rare Fox voices to be consistent on the point of whether Trump committed illegal acts. But, as he also noted in the op-ed, it is up to Congress to do anything about it
Watch the video up top, via Fox News.