Trump Attacks 'Morning Psycho': Joe Scarborough Embraces The Insult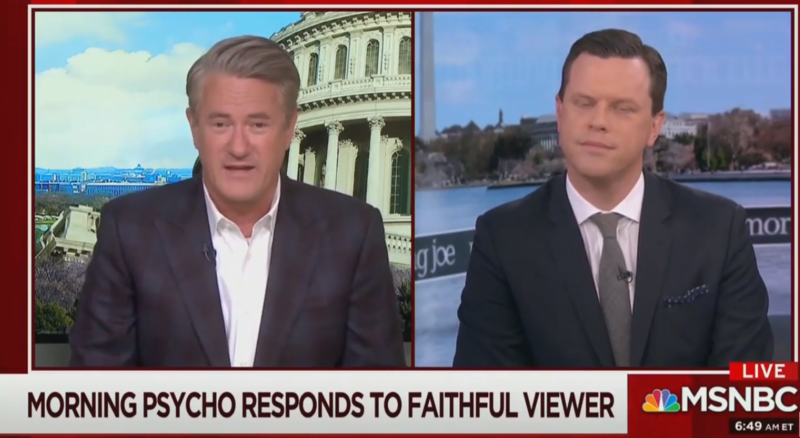 President Donald Trump was up early Tuesday morning and apparently watching MSNBC's Morning Joe, along with Fox & Friends, his usual favorite morning show. Trump had some thoughts on the shows' different approaches to covering him.
"Sorry to say but @foxandfriends is by far the best of the morning political shows on television. It rightfully has BY FAR the highest ratings, not even close. Morning Psycho (Joe), who helped get me elected in 2016 by having me on (free) all the time, has nosedived, too Angry…" Trump tweeted.
"….Dumb and Sick. A really bad show with low ratings – and will only get worse. CNN has been a proven and long term ratings and beyond disaster. In fact, it rewarded Chris Cuomo with a now unsuccessful prime time slot, despite his massive failure in the morning. Only on CNN!" He went on, moving to attack CNN in the same thought.
Joe Scarborough read part of the tweets live on air and embraced the President's insults.
"Hi, Donald, how you doing? We love you watch us," Scarborough said mockingly.
"He says that Fox & Friends is by far the best show and he calls me Morning Psycho, by far. Not eve close. Morning Psycho, who, get this. Hold on, everybody. Ready? Who helped get me elected in 2016 by having me on."
"Well, Donald. Why, thank you. Because I remember you telling Jeff Zucker that you didn't need CNN, the entire network of CNN to get elected but you are saying our show is so powerful that we got you elected. Wow, that's great."
The panel wondered if Trump had called Scarborough 'psycho' before.
"Has he done Morning Psycho before? No, that's it. I'm Psycho Joe before. Now it's Morning Psycho. Can we get the lower third? Can you go 'Morning Psycho responds to faithful viewer'. Let's see how quickly they can get that out. Can you believe, though, it is something, Willie, he watches every day. People close to him say he watches every day. It drives him crazy."
The show then showed a lower third featuring the caption Scarborough had asked for.
Watch the video above, via MSNBC.