Kamala Harris Beats Bernie Sanders in CNN Town Hall Ratings, Leads Time Slot in Key Demo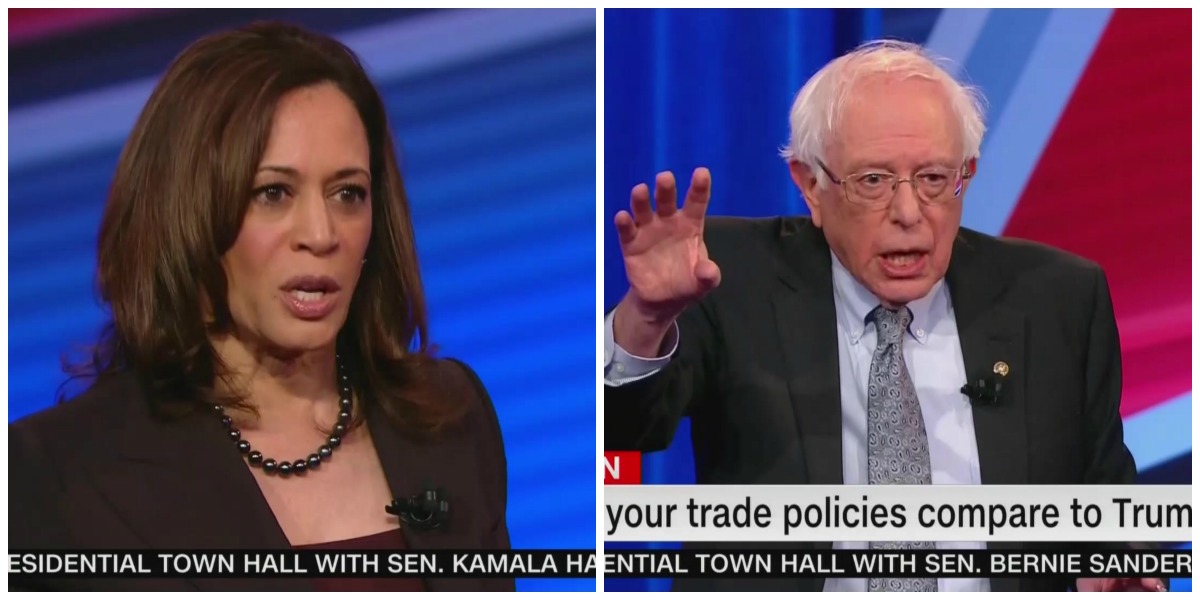 CNN accomplished a pretty impressive feat Monday night by airing five consecutive town hall events featuring 2020 Democratic presidential hopefuls from key early primary state New Hampshire. The forums, each an hour long and starting at 7 PM ET, featured Sen. Amy Klobuchar (D-MN), Sen. Elizabeth Warren (D-MA), Sen. Bernie Sanders (I-VT), Sen. Kamala Harris (D-CA) and South Bend Mayor Pete Buttigieg.
As far as cable news ratings go, it was something of a mixed bag for the network as it scored victories in the key 25-54 advertising demographic but finished in third-place each hour in total viewership. At the same time, the events scored higher ratings than CNN has recently experienced in those time slots, especially for the forums that aired later in the evening.
And, perhaps somewhat surprisingly, Harris scored the highest ratings of the evening among the candidates, leading in both total viewership and the key demo its time slot in the demographic.
Obviously looking at current polls and name value, CNN scheduled Klobuchar first and outside of primetime. During the 7 PM hour, the Minnesota senator's town hall — which featured an unfortunate "please clap" moment — placed third in the time slot in both total viewership (869,000) and the key demo (183,000).
CNN placed Warren's town hall in the 8 PM slot, facing off with Fox News' Tucker Carlson Tonight and MSNBC's All In with Chris Hayes. The Massachusetts lawmaker, who forcefully re-upped her call to impeach President Trump, placed third in the total viewers (1.180 million) but did take second place in the demographic (332,000).
In the 9 PM hour, CNN slotted Sanders to face off with ratings juggernauts Hannity and The Rachel Maddow Show. The Vermont independent senator, coming off of drawing 2.5 million viewers during his non-primetime Fox News town hall, led his time slot in the key demo with 458,000 while placing third in total audience (1.338 million). Hannity, meanwhile, drew fewer demo viewers than its lead-in Tucker, which pulled in 498,000.
Harris took the stage in the 10 PM hour and delivered CNN's highest ratings of the day, delivering 494,000 in the key demo and 1.437 million total viewers. Harris, who set a CNN viewership record for a single-candidate town hall in January, led her time slot and finished second overall in the key demo, but had to settle for a third-place finish in total viewership, finishing behind Fox's The Ingraham Angle (2.254 million) and MSNBC's The Last Word (2.053 million).
Mayor Pete capped off the string of town halls at 11 PM, drawing 389,000 demo viewers to lead his time slot. The ascendant candidate, however, wasn't able to top either MSNBC's The 11th Hour (1.546 million) or Fox News @ Night (1.398 million) in total audience, drawing 1.179 million viewers overall.