Watch Hannity Walk Sarah Sanders Through Her Excuse for Lying About James Comey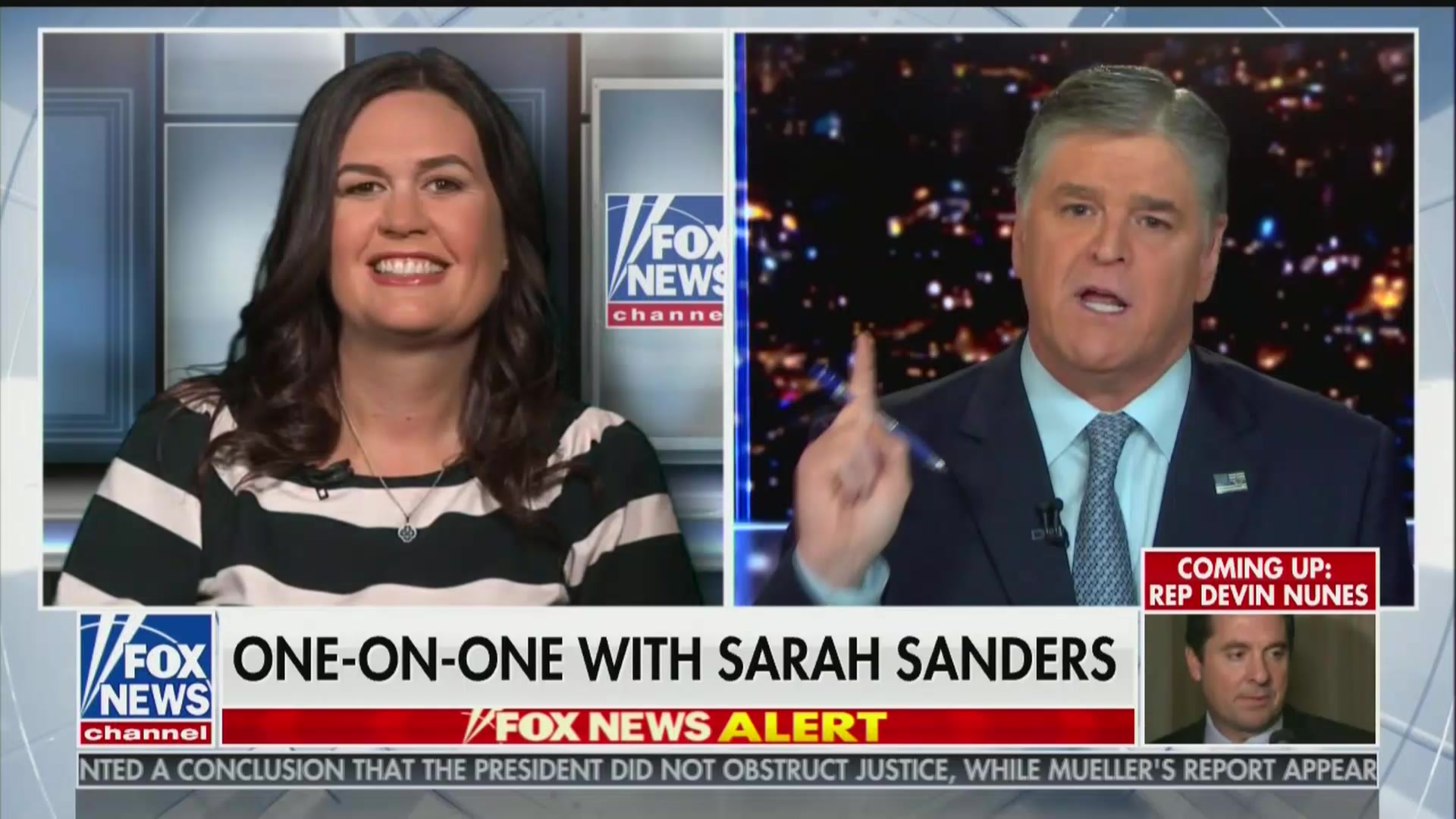 According to the Mueller report, White House Press Secretary Sarah Huckabee Sanders told Special Counsel Robert Mueller's team that she lied when she told reporters in May 2017 that "the rank and file of the FBI had lost confidence" in FBI Director James Comey and the White House staff "heard from countless members of the FBI that say very different things."
In the report, Sanders called her reference to hearing from the "countless" FBI members a "slip of the tongu" and that her claim that the bureau had lost confidence in Comey was "a comment that was made 'in the heat of the moment' that was not founded on anything." Sanders had made these remarks during the press briefing to justify the president's firing of Comey.
Hours after the release of the redacted version of the Mueller report, Sanders appeared on Fox News' Hannity to offer her explanation. And she received a big assist from the White House shadow chief of staff.
With White House deputy press secretary Hogan Gidley telling CNN's Anderson Cooper the previous hour that Sanders would be appearing on "another network" to clear up the confusion around her testimony to Mueller, Hannity helpfully walked her through her "clarification" with a lengthy set-up.
"The media is attacking you today because I guess the testimony you gave you said the FBI people you know were — were, I could tell you — let me put it this way — every FBI rank and file guy, the 99.9% I know have all thanked me, because they're hurt — their reputation– this is the premier law enforcement agency in the world," he declared. "Just like our intelligence community. Same thing. The premier intelligence community in the world. They were hurt by a few at the top. And they're angry about it. And you said that, but, explain?"
After Hannity claimed nearly every FBI agent he's ever encountered has blasted Comey and other intelligence community leaders, Sanders then "explained" what she meant during her interview with Mueller, this time while conveniently not speaking to a federal prosecutor.
"Look, I acknowledged that I had a slip of the tongue when I used the word countless, but it's not untrue," she said. "And certainly you just echoed the sentiment and the point I was making is that a number of both current and former FBI agents agreed with the president."
She added: "James Comey was a disgraced leaker who tried to politicize and undermine the agency he was supposed to run. Firing James Comey remains one of the best decisions that the president made. The only problem is, he could have done it sooner and maybe it would have been a better thing. But absolutely the right decision and every day since that he's proven he was right all along."
Watch the clip above, via Fox News.