Fox News' Bill Hemmer Calls Democrats' Vote Totals in Blue Districts 'Saddam Hussein Numbers'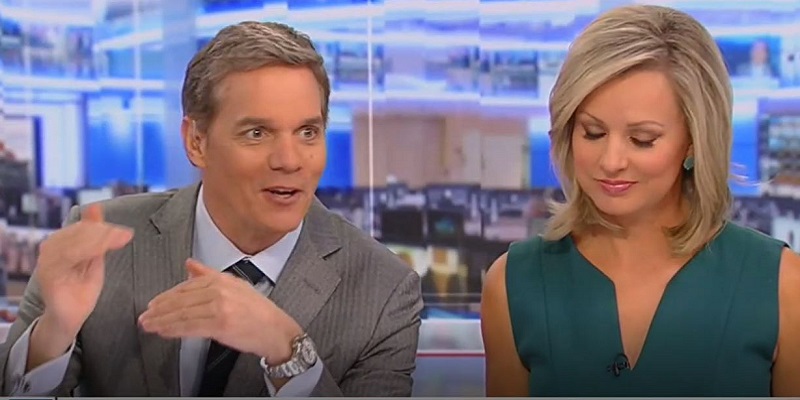 Bill Hemmer really needs to work on his trolling skills.
During a conversation about the power of progressive Democrats on Tuesday morning, the Fox News host compared the margins of victory of winning Democrats in New York City-area districts in 2018 to those of a Middle Eastern dictator in the sham elections held for him when he was alive.
Hemmer started the discussion by bringing up comments made by Nancy Pelosi over the weekend. Speaking at an event in Europe, Pelosi said that districts such as hers in San Francisco and that of Alexandria Ocasio-Cortez, who represents part of New York City, are so heavily Democratic that a "glass of water with a 'D' next to its name in those districts."
"In these House districts around New York City, you look at the results of this election from 2018. It is 72 percent, 78 percent, 85 percent, 92 percent. Those are Saddam Hussein numbers," Hemmer said, drawing laughter from a couple of Democrats on the panel.
Hemmer was trying to push the Fox News framing that leftist Democrats such as AOC–the "left of the left"–have outsized power in the party right now and that Democratic voters are moving so far to the left that they are bound to alienate millions of more moderate Americans. The Fox News host surely knows that the same is true in reverse in heavily Republican districts, where GOP House members are also known to sometimes win with 75 to 80 percent of the vote.
Hemmer was also trying to imply that Pelosi's comments were a jab at AOC, an effort to keep the upstart in line and remind her who has the real power in the Democratic caucus. This is how Pelosi's comments got played in much of the media, which ignored the context to focus on that one quote.
What the Speaker of the House actually said was, "When we won this election it wasn't in districts like mine or Alexandria's. She is a wonderful member of Congress. I think all of our colleagues will attest. Those are districts that are solidly democratic." She then went on to make the statement about a glass of water being able to win in those districts.
Hemmer's guests, talk-radio host Leslie Marshall and Tom Bevan of RealClearPolitics.com, then explained to Hemmer that Pelosi was trying to protect the more moderate members of the Democratic House caucus. Those members won their districts by much smaller margins and will have tough fights on their hands in 2020, when an incumbent Republican president being on the ballot will likely increase turnout of GOP voters. That turnout is likely to threaten Democratic control of the House. Hence it is in their interest to give moderates in swing districts some cover to claim to their voters that the party is not swinging that hard to the left.
Watch the video above, via Fox News.