New Poll Shows Roy Moore Favorite Candidate of GOP Voters for Alabama Senate Race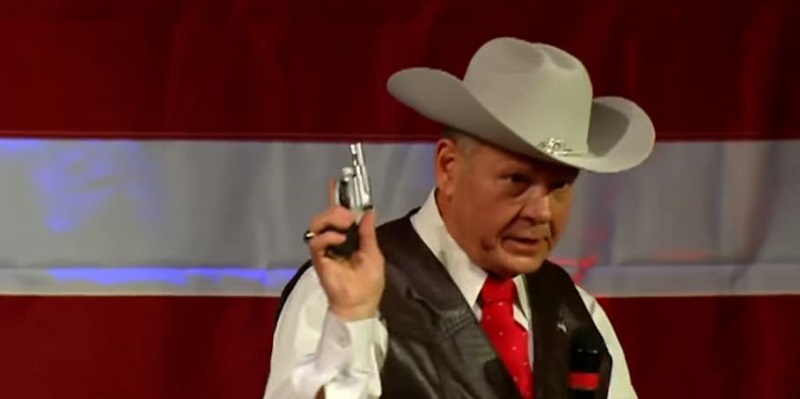 He's baaaaaack. Maybe.
Mason-Dixon Polling has a new poll out showing Judge Roy Moore leads the field for the Republican nomination to take on Democratic incumbent Doug Jones in his re-election effort to keep his Senate seat from Alabama in 2020.
Moore led in the poll of registered GOP voters with 27 percent. Rep. Mo Brooks was in second place with 18 percent. Moore has not yet officially entered the race but has publicly said that he is "seriously considering it" because he feels that the 2017 race was "stolen" from him.
Moore's campaign in 2017 was rocked by allegations from several women that he had sexually assaulted them years before, when at least two of them were teenagers. Moore defended himself by claiming he had dated several teenagers while he was in his 30s but denied that he ever had sex with anyone who was underage.
Again, remember that this was his defense.
The allegations helped Jones narrowly beat Moore to take over the seat after Jeff Sessions resigned to become Donald Trump's first attorney general. The win made Jones the first Democrat from Alabama elected to the Senate since Richard Shelby was re-elected for a second term in 1992. Shelby then switched parties in 1994.
Even before the loss, Moore had long been a controversial figure in Alabama and national politics. He had close ties to the racist right, particularly neo-Confederate secessionist groups in the South. He was a leading proponent of the theory that Barack Obama was secretly born in Kenya. He is a Christian evangelist who was removed from the position of Chief Justice of the Alabama Supreme Court after refusing to take down a monument of the Ten Commandments he had installed in the court building.
Granted, it is early in the race, and Mason-Dixon only polled 625 voters. Still, if Moore jumps into the primary, expect it to get ugly very fast.