Bill Weld: Trump Is A 'Miserable Narcissist' Who Might Want The US To Be 'More Dictatorial'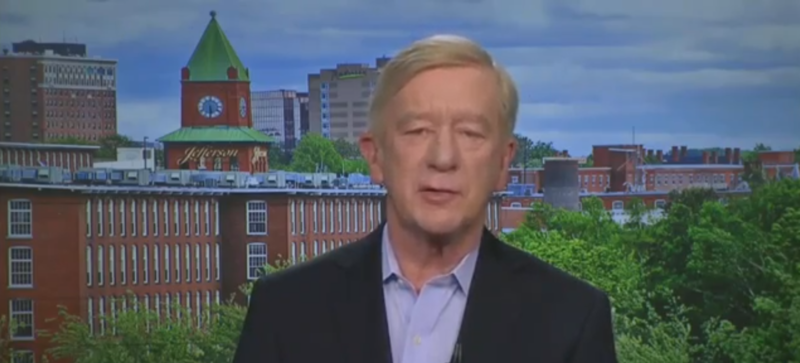 Former Massachusetts Governor Bill Weld called President Donald Trump a 'miserable narcissist' on MSNBC's Morning Joe Tuesday morning. Weld is challenging Trump for the 2020 Republican presidential nomination and he went on show, popular with liberal audiences, to explain why.
Joe Scarborough asked Weld about his 'long shot' campaign, and pointed out that Bill Clinton was an unlikely victor in the 1992 presidential election. Weld was sanguine about his chances.
"I think it's one voter at a time," Weld said. "And I think it's good for the country to put the President to his proofs, as it were. Maybe ask him some 'why' questions. Like, why do you think it's good to insult our military allies? Why do you praise dictators? Is it because you wish the United States was more dictatorial? I'm afraid that might be the case."
"Why are you so angry about everything all the time?" Weld said. "This was said earlier, everyone is fearful of the President's wrath. Bob Woodward's book was called Fear and I think that seems to be the President's strategy. I've said that I think this is a case of the emperor's new clothes and somebody had to raise their hand and say the emperor does have new [sic] clothes."
"So, a year is a long time in politics. And if you look at history, the New Hampshire primary has gone up and down and the polls have gone up and down. I'm going to camp out up here as well as other parts of the country and make the case. And I think the case is very much there to be made."
Weld took a strong line on climate change, castigating Trump for his refusal to believe in it. This is an unusual position for even a mainstream Republican to take. Later in the segment, presidential historian Jon Meacham weighed in.
"Governor, you're a well-known happy warrior in these climates…" Meacham began.
"Better a happy warrior than miserable narcissist," Weld cut in.
"Boy, that'll get the country going, sir," Meacham replied.
"I'm not saying let's return to anything other than the values of the party of Abraham Lincoln," Weld said. "I'm saying let's think ahead about what to do about artificial intelligence and robotics and drones and all the jobs we're going to lose and let's make sure those people, the displaced workers, have the education they need to get the replacement jobs which are going to be higher paying and have more technical requirements."
Watch the video above, via MSNBC.