After Sanders' Viral Moment On Fox News, Fox & Friends Call Town Hall 'Tiresome'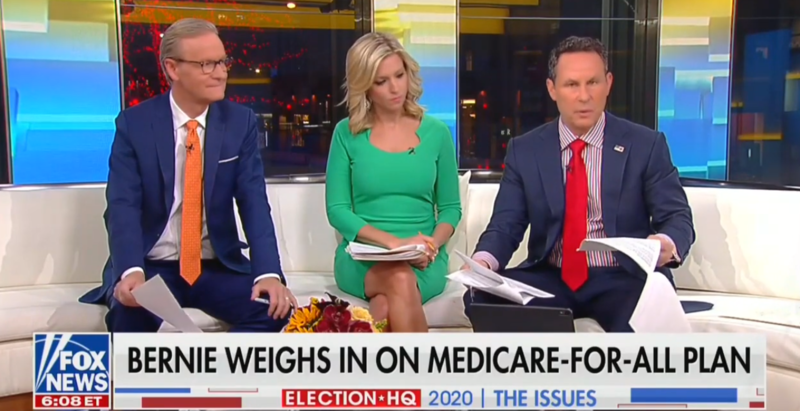 Senator Bernie Sanders had a viral TV moment on Fox News Monday night. During a town hall-style event, Fox news anchor Bret Baier tried to prove that Medicare for All was unpopular by asking the studio audience about their views. The audience, which Baier said was politically diverse, mostly approved of the idea and even broke into cheers. The clip quickly went viral.
However, on Fox & Friends Tuesday morning, the hosts told a different story. Clearly eager to downplay the effect of Sanders' town hall, Steve Doocy, Brian Kilmeade and Ainsley Earhardt explained why Sanders hadn't been very effective at all.
"If you were watching Fox News last night, you saw something you probably weren't expecting although we were promoting it quite effectively," Kilmeade said. "Bernie Sanders for a complete hour with Martha MacCallum and Bret Baier but most importantly a lot of supporters in the audience. And it was a true town hall."
Kilmeade's suggestion that there were many Sanders' supporters in the audience seems to contradict Baier's assertion that the audience 'has a lot of Democrats in it. It has Republicans, independents, democratic socialists, conservatives.'
"And just before Bernie took the stage at six thirty last night… at six o'clock, he released 10 years worth of his taxes," Doocy said. "Bernie, through his career has called for an economy that works for everybody, not just the 1%. And, according to the taxes, Bernie is part of the 1%. In the years 2016 and 2017, thanks to the economy and selling his book, he made over a million dollars in those two years. This past year he paid an effective federal tax rate at 26%. And when you think about it, you know, he's railed against the 1% and capitalism, and he was asked about well, Bernie, isn't this proof that capitalism works? He was prepared for that question and he had this answer."
They showed a clip from the town hall, including Sanders discussing his Medicare for All plan. The Fox News hosts were dismissive of his ideas on Medicare, suggesting it was unworkable and would add $14 trillion to the national debt.
"He is addressing an issue people care about, I get it," Kilmeade said. "And that's laudable. But in terms of details, when asked to defend, the follow up, he immediately deflected. Everything was either a deflection, what about Trump and a put down about Fox. That was his decision, and that was his way of parrying. I guess that's a tactic. I guess skilled politicians deflect. But I just… It got a little tiresome after an hour."
Watch the video above, via Fox News.