Fox News Guest Slams Democrats On Twitter: There Is No Filter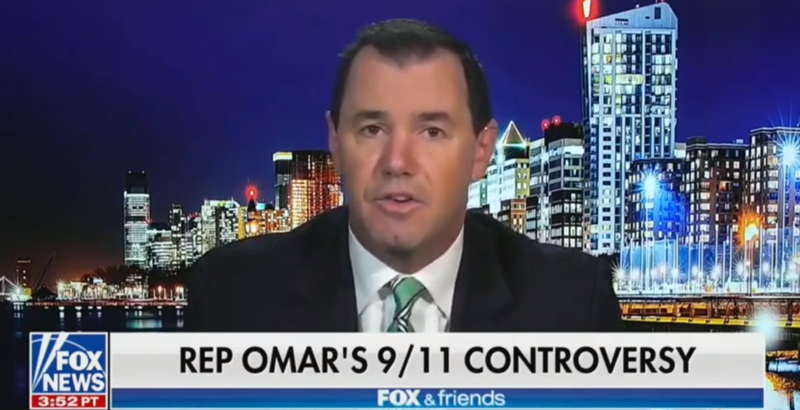 Fox & Friends Saturday returned to one of their favorite subjects Saturday morning: Representative Ilhan Omar. The freshman Democrat has been the focus of right-wing outrage for days now following comments she made about the 9/11 attacks.
Joe Concha, media reporter at The Hill newspaper, strongly criticized Omar and the Democrats defending her. The Hill is a frequently conservative publication that often carries right-wing op-eds. Concha was keen to point out the Democrats' mistakes with Omar, especially her 'doubling down.'
"Doubled down, also, Pete [Hegseth] in terms of invoking president George W. Bush at the time and comparing her words, which were dismissive and flippant with George W. Bush three days after 9/11 with a megaphone in his hand, we all remember, it saying people who did this we will hear from all of them soon. There is zero comparison on that."
"And then you have Ocasio-Cortez, the congresswoman from New York's 14th district actually going after Dan Crenshaw questioning his patriotism because he doesn't, allegedly, support a bill in Congress around 9/11. You know about this, Pete, because you were in war. He went to Afghanistan, lost his eye in combat and Ocasio-Cortez, who has nothing to do with this goes after him?"
Representative Alexandria Ocasio-Cortez has defended Omar, while Crenshaw is seen by some as a rising Republican star.
"And as for Omar, this is on Nancy Pelosi to a certain extent," Concha went on. "Omar is still on committees. If Nancy Pelosi wants to get a hold of the freshman … woman in her party, that, let's face it, they're going to be a face of the 2020 election just as much as anybody else if you are Donald Trump or any Republican. You're going to exploit that you need to take her off committees and do more than what she said about Alexandria Ocasio-Cortez, when she said while there are people who have a large number of Twitter followers what's important we have a large number of votes on the house floor."
"No, Nancy, you have to talk to these people and say you are hurting us. You need to control yourselves. But with Twitter, guys, that's the problem. You can't control yourself because there is no filter. There's no-one to tell you to stop when you start using those thumbs."
Neither Concha nor any of the Fox New hosts bothered to mention President Donald Trump's use of Twitter, or his recent tweet about Omar and the 9/11 attacks, which was widely criticized and condemned. Trump is notorious for his unfiltered language on Twitter.
Watch the video above, via Fox News.