Kellyanne Conway Lies About GDP Growth, Gets Corrected on CNN by Fellow White House Aide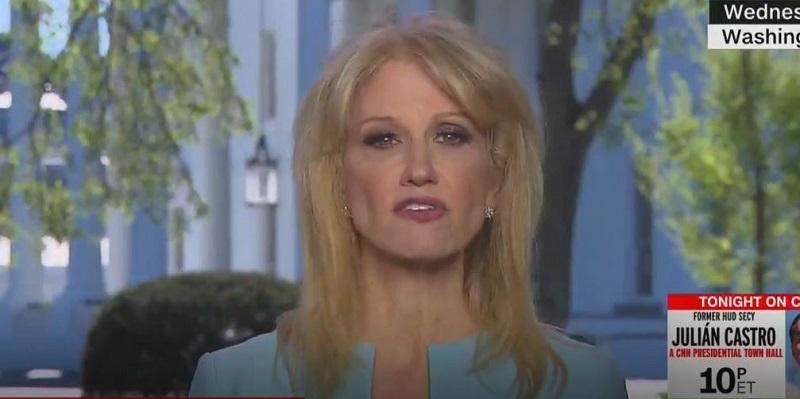 In a little-noticed interview on Wednesday, White House counselor Kellyanne Conway told CNN's Jim Sciutto that the country has seen economic growth "over four percent" of GDP. Whch would be an awesome number, if it was actually true.
It was also unclear what timeframe Conway was referring to. The last year? Overall growth during Trump's two years in office? Or just the first quarter of 2019?
If she meant that last one, then she should talk to Kevin Hassett, chairman of the president's Council of Economic Advisers, who also works in the White House. Sciutto's broadcast partner, Poppy Harlow, was interviewing Hassett on Thursday when she got him to flatly contradict Conway's assertion.
Harlow played the clip of Conway asserting four percent growth and asked Hassett to explain the comment, since the country hasn't seen that number since the second quarter of 2018. Hassett admitted this was correct and added that the GDP number for the first quarter hasn't even been released yet. When it is, his data tells him it will be somewhere around two percent, a fact he blamed partly on the government shutdown early in the year.
Hassett went on to say that everyone in the White House understands and expects GDP growth in 2019 to come in somewhere around three percent.
This matters for several reasons. One, President Trump spent much of the 2016 campaign hammering President Obama for anemic economic growth. He repeatedly has promised that his economic plans, which mostly amount to tax cuts for the wealthy and repealing every regulation he can find, would boost the economy to anywhere from four to six percent yearly GDP growth.
That has not happened. In fact, economic growth in 2018 was roughly equal to growth in 2015, which was the best year for GDP under Obama, at 2.9 percent.
Trump and his toadies like to claim that the U.S. economy has taken off. And it is true the economy has done well in certain areas. But claiming we are seeing four percent growth is a flat-out lie, one that is easily fact-checked.
Of course, Trump has tried blaming everyone he can for the slower growth — the Federal Reserve, the Democrats he claims were responsible for the government shutdown. But at the end of the day, his economic plans have not been the boost he swore they would be. That is true no matter what Kellyanne Conway says.