Republican Senator John Kennedy Gets Salty Over Democrats' Request for Trump's Taxes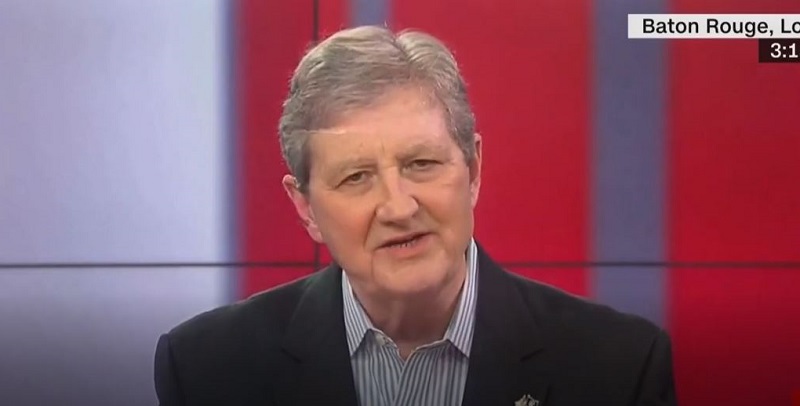 On Thursday, Sen. John Kennedy (R-LA) seemed equivocal on the issue of Democrats on the House Ways and Means Committee requesting the Internal Revenue Service turn over President Trump's taxes. "I think all things being equal, I would like to see the president's taxes," Kennedy told CNN's Alisyn Camerota.
Fast-forward 24 hours, and Kennedy is a bit more salty about the matter.
The senator was being interviewed by Jake Tapper on CNN's The Lead Friday afternoon when news broke that Trump's attorneys have sent a letter to the Treasury Department, which oversees the IRS, pushing back on the request from Rep. Richard Neal, the Democratic chairman of Ways and Means. Trump's lawyers told the Treasury Department that the request from Neal was entirely political, geared towards harassing Trump, and that Neal has no "legitimate" need to see the returns.
Tapper then asked Kennedy to comment on the news. The Louisiana senator squinted into the camera and said, "Jake, I will be very blunt."
He continued, "Chairman Neal, powerful man…I know he's an adult, but I don't think he's like a real adult. He says that he needs Trump's tax returns. He says it's policy, not politics. He has said…that the reason he needs them is that he needs to determine how well the IRS is auditing taxpayers. I can't believe he really thinks the American people are going to fall for that. It must really suck to be that dumb."
That is a far cry from Thursday, when he told Camerota he "was interested in what the American people think. They'll draw their own conclusions" about the matter.
But on Friday, Kennedy ranted, accusing Neal of wanting to "screw" President Trump and acting in bad faith in requesting the returns.
Tapper closed out on the topic by inviting Neal to come on the show anytime to defend himself.
Watch the video up top, via CNN.