Diamond And Silk: Beto O'Rourke Reminds Us Of A Slave Owner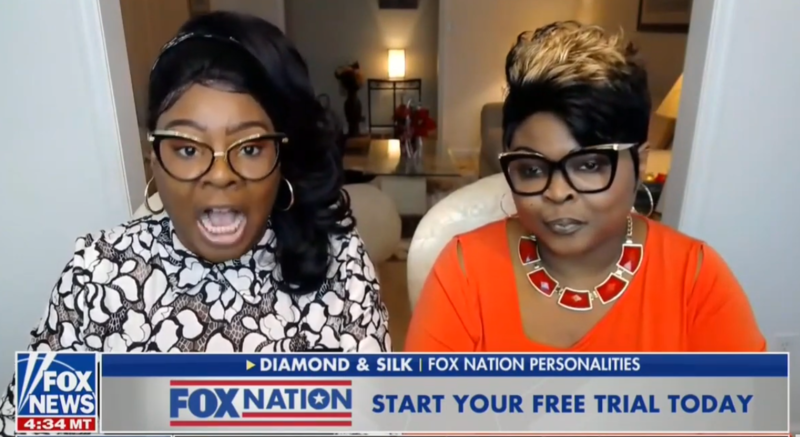 Conservative media personalities Diamond and Silk were on Fox & Friends Friday morning to discuss the Democratic presidential candidates and the Green New Deal. Billed as 'Fox Nation Personalities' on the Fox News flagship morning show, Lynnette Hardaway and Rochelle Richardson had some strong views on the presidential hopefuls.
Host Brian Kilmeade asked the pair what they thought of former Texas Congressman Beto O'Rourke, who's running for the Democratic nomination and performing well in fundraising numbers. They showed a clip of O'Rourke criticizing President Donald Trump's rhetoric about Mexican immigrants.
"Well, when I listen to Beto O'Rourke, his rhetoric, it reminds me of a slave owner," Hardaway said. "Any time you want to tear down existing walls and allow poor people to flow into our country and then work — have them living in shadows, they are working for slave wages. That makes you a slave owner. He needs to look at himself."
"And his own rhetoric," Richardson added.
"That's what he needs to do," Hardaway said.
Diamond and Silk's comparison of a former congressman to a slave owner went entirely unchallenged by the Fox & Friends hosts, who quickly moved on to another question. Framing Democrats as somehow pro-slavery is part of Hardaway and Richardson's toolkit.
Earlier in the segment, they denied climate change and attacked Representative Alexandria Ocasio-Cortez for belonging to a party that was historically racist.
"First of all, civil rights have nothing to do with climate change, first of all. And second of all, her Green New Deal is a green new scam that we must stay away from. Now, I know that she is worried about climate change but she needs to talk to Mother Nature," said Hardaway, who dominated the segment with occasional agreement from Richardson.
"With the Earth rotating at 1,000 miles per hour, okay, 365 days of the year, we subject to feel climate changing a little bit," Hardaway said. "But not to the  the tune where we have to dismantle everything and start the Earth back over again. It's an an absolutely no for us."
Hardaway is correct that the Earth rotates at around 1,000 miles per hour, but the connection between the Earth's rotation and man-made climate change was not clear from her statement.
Throughout the segment, the pair got in several jibes about how the Democratic Party was traditionally racist. It is worth noting that the Voting Rights Act and Civil Rights act were both passed by a Democratic president, Lyndon B. Johnson, and with Democratic majorities in Congress.
Watch the segment at the top of the post, via Fox News.