Twitter Points and Laughs at Fox Contributor for Wearing Tactical Vest at Border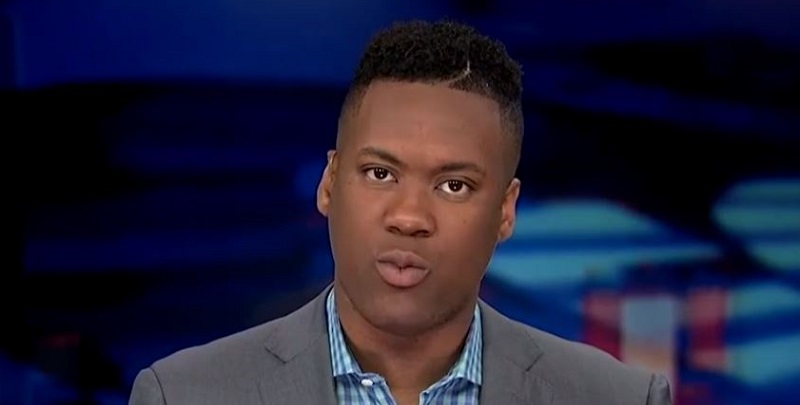 Fox News contributor Lawrence Jones III has been down at the southern border to report on the immigration crisis currently overwhelming resources there. Thursday morning he tweeted out a most unfortunate photo of himself preparing for a live, on-camera hit for the network:
Coming up on @FoxNews live from the border. pic.twitter.com/aRlNQxrO1x

— Lawrence Jones III (@LawrenceBJones3) April 4, 2019
Ostensibly that is a tactical vest of the sort worn by soldiers in war zones. Which raised the ire of at least one reporter, NBC's Jacob Soboroff, who has also spent a great deal of time at the border and has never played dress-up to do so:
This is totally ridiculous.

I have never once worn a bulletproof vest at the border, nor has CBP ever asked me to — even while on a chase with Border Patrol to apprehend migrants in remote Arizona desert in the middle of the night.

Because. The. Border. Is. Not. A. War. Zone. https://t.co/Q1V95e7N5x

— Jacob Soboroff (@jacobsoboroff) April 4, 2019
The border being a war zone is exactly what Fox News wants its viewers to think, though. President Trump keeps calling the migrants crossing it "an invasion," and that sort of fearmongering is central to the anti-immigrant worldview that the network pushes.
To be fair to Jones, he swore that the Border Patrol insisted he wear the vest while accompanying its agents on a ride-along. (Though, again, Soboroff swears that the CBP has never made him wear one; perhaps they care less about the safety of an NBC reporter than one from Fox.)
There is also footage another Fox News reporter filed on Thursday of himself helping CBP chase migrants around the desert without wearing a vest:
Fox News has a reporter stationed in the woods along the US-Mexico border (@GriffJenkins) who appears to be helping feds apprehend migrants.

"We found a group. This is the first one we found," he says. pic.twitter.com/NZfCQwVrlr

— Aaron Rupar (@atrupar) April 4, 2019
Several people also pointed out that the vest appeared to be missing any sort of Kevlar plate that would have protected Jones from anything more dangerous than harsh language, which seems to negate the point of wearing one.
But most unfortunately for Jones, he did inspire some really funny photoshop work poking fun at him.
— Joe Kassabian (@jkass99) April 4, 2019
— Parker Molloy (@ParkerMolloy) April 4, 2019
— Parker Molloy (@ParkerMolloy) April 4, 2019
— jordan (@JordanUhl) April 4, 2019
— Dusty Giebel (@DustinGiebel) April 4, 2019
No time for hatred on #NationalBurritoDay pic.twitter.com/Qm07CmG0QE

— Fuzz Martin (@FuzzMartin) April 4, 2019
— MTorres_Tx15 (@saenzmom) April 4, 2019
And there were those who just took part in general mockery:
— Kevin M. Kruse (@KevinMKruse) April 4, 2019
— rob delaney (@robdelaney) April 4, 2019
Hey @LawrenceBJones3 you want to borrow this one? pic.twitter.com/uqV9W300Fs

— José Andrés (@chefjoseandres) April 4, 2019
I can only assume that Lawrence Jones is giving an impassioned defense of the merits of cosplay https://t.co/HI1rUZMnn0

— Jared Holt (@jaredlholt) April 4, 2019
This would seem to be the biggest risk of participating in Fox and President Trump's propaganda campaign to scare people with images of dangerous people flooding the border with crime and drugs: sooner or later, you only make yourself look ridiculous.