Newt Gingrich: Democrats Want to Abolish Electoral College so 'Illegal Immigrants' Can Vote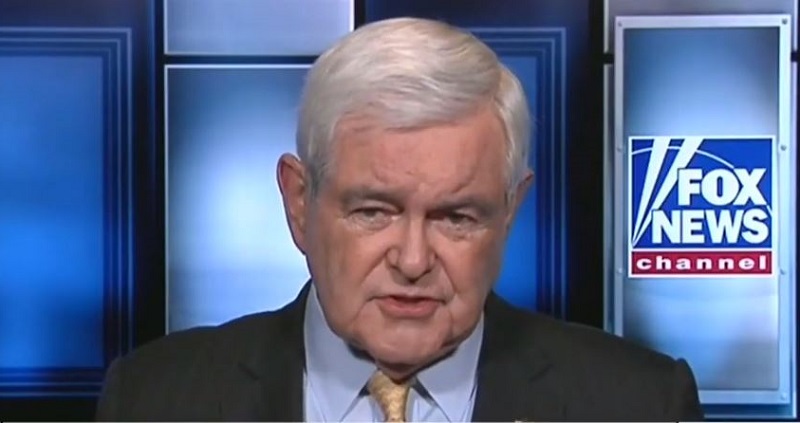 Senate Democrats this week introduced a constitutional amendment to abolish the Electoral College. Wednesday morning, former House Speaker Newt Gingrich appeared on Fox & Friends to explain how this is part of a devious plot by the left to "steal" presidential elections.
Ainsley Earhardt set up the discussion by asking Gingrich "Can you believe this?" while laughing, as if the Constitution is an inviolate document that can never be amended. She then asked Gingrich what he thought of the idea.
Gingrich responded, "I think if you want to set up a single nationwide count so we could have the Palm Beach story nationwide, then you could have the maximum incentive for Democrats to steal the election and the maximum incentive for Democrats to have illegal immigrants voting, it's a terrific idea."
Gingrich appeared to be referencing the infamous "butterfly ballot" in Palm Beach, Florida, that threw the entire 2000 election into chaos, causing statewide recounts and taking a full month and a Supreme Court decision to resolve. It had nothing to do with undocumented immigrants voting, as illegal voter fraud of this type is vanishingly rare, no matter how much Fox News hypes it. So Gingrich is being, as usual, very disingenuous.
The former Speaker of the House continued, "I think anybody who believes in having a totally corrupt nationwide system ought to be in favor of it, but if you think it's better to have a decentralized system…"
Abolishing the Electoral College does not mean what Gingrich is implying. Each state would still run its own elections, with its own ballots and methods of casting them. There would be no centralized election system run from Washington, D.C.
Steve Doocy then chimed in that Democrats only want to abolish the Electoral College because it is the reason Donald Trump won the 2016 election even though Hillary Clinton won the nationwide popular vote. But crusades to get rid of the Electoral College long predate Trump's election. What differentiates this most recent action from, say, the National Popular Vote interstate compact, is that a Constitutional amendment would be viewed as more permanent and have the force of law behind it.
Watch the clip up top, via Fox News.