Fox News Guest: Joe Biden Accuser Is 'Racist' And 'A Fraud'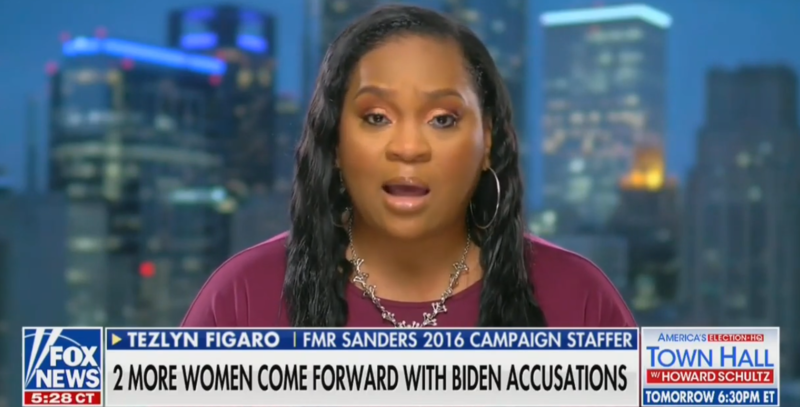 A former staffer for Senator Bernie Sanders has accused one of the women who made allegations against former Vice President Joe Biden of being dishonest and racist. Tezlyn Figaro, who appears on Fox News from time to time, made the claim Wednesday morning.
Figaro, who was Sanders' National Justice Director in 2016, told a host on Fox & Friends that Flores had attempted to bully her and retaliate against her. Flores is one of two women who have accused Biden of touching them in a way that made them feel uncomfortable. Neither woman has claimed it was sexual assault, however.
"This is the first time I have said this on national TV," Figaro said. "I think it's very important. You know, Vice President Joe Biden, if you are listening, you should know that Lucy Flores is a fraud."
"I myself worked with her at Our Revolution when she was on the board and I have an EEOC claim naming her, filed against Our Revolution, naming Lucy Flores as someone who was racist, who also implemented retaliation. She told me that if I didn't do what she told me to do that I would suffer the consequences."
"So I think it's really important that Joe Biden knows that, you know, I don't question what happened between her and him that day, I wasn't there," Figaro said. "But I was there when I worked with Lucy Flores and had an opportunity to see her in action. And I'm the only one, this is very important, the only one that has legal documentation on her retaliation."
"She has a long list, a long history of her picking the perfect timing, quote unquote on speaking on these issues. The difference between Lucy and I is you, I spoke up immediately and took legal action and she waited for five years. And I'm happy to have that conversation in long form. And this is the first time I have said it over the last year. I've been very quiet about it now that she has been compelled to speak up, I too am compelled to speak up to say Lucy Flores is a fraud."
Watch the video above, via Fox News.