Morning Joe Mocks Trump's Re-Election Plan: He's Desperately Trying To Expand The Map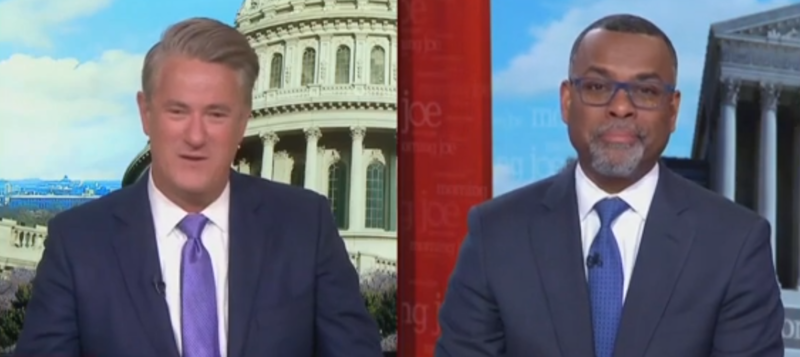 Morning Joe's Joe Scarborough was incredulous at President Donald Trump's apparent plan to win the 2020 election. According to a report in Politico, the Trump team plans to target states Hillary Clinton won in 2016, many of them deep blue.
"The President's campaign team is looking at targeting states that Hillary won in 2016," Mika Brzezinski said.
"According to Politico, Trump has set his sights on Virginia, a state Democrats have dominated in the past decade but where the party's three top office holders are embroiled in scandals. Leading the offensive is Vice President Mike Pence," Brzezinski said, quoting from the article.
"Besides Virginia, Trump campaign officials have discussed making a play in New Hampshire, Minnesota, Colorado and New Mexico, a state that Trump lost by 8 points."
Later in the segment, Scarborough turned to Eddie Glaude to discuss the Trump campaign's plan to target blue states. Neither of them was particularly impressed by its chances.
"We were talking about states Donald Trump was talking about expanding into. And I can't help but laugh. Colorado? No way. New Mexico?  No way. Virginia? Not on your life. I don't care what happens in Virginia on statewide level — I mean, northern Virginia has gone so deep blue. There's just not going to happen."
"I think the real tell in that story is they're desperately looking to expand the map because they know they're in trouble in states like Michigan, Wisconsin and Pennsylvania."
"I think the Republican Party and Donald Trump's campaign will make a deep, a profound mistake, if they think the leadership of Virginia represents the energy of the grass roots of the state of Virginia," Glaude agreed.
"Joe, I've been sitting here thinking about Donald Trump since the opening at the top of the show," Glaude said.
"Exoneration without the report, you know, 'I'm brilliant' without the grades and so on. I'm beginning to think that we should start thinking about him as a sort of like the Wizard of Oz, a person who wants to live in the illusion. And then when you look behind the door, when you look behind the screen, what do you see? You see a very small, insecure…"
"A little fat man," Scarborough said.
Watch the video above, via MSNBC.