Maddow Beats Hannity, Leads Cable News In Key Demographic For 2019 First Quarter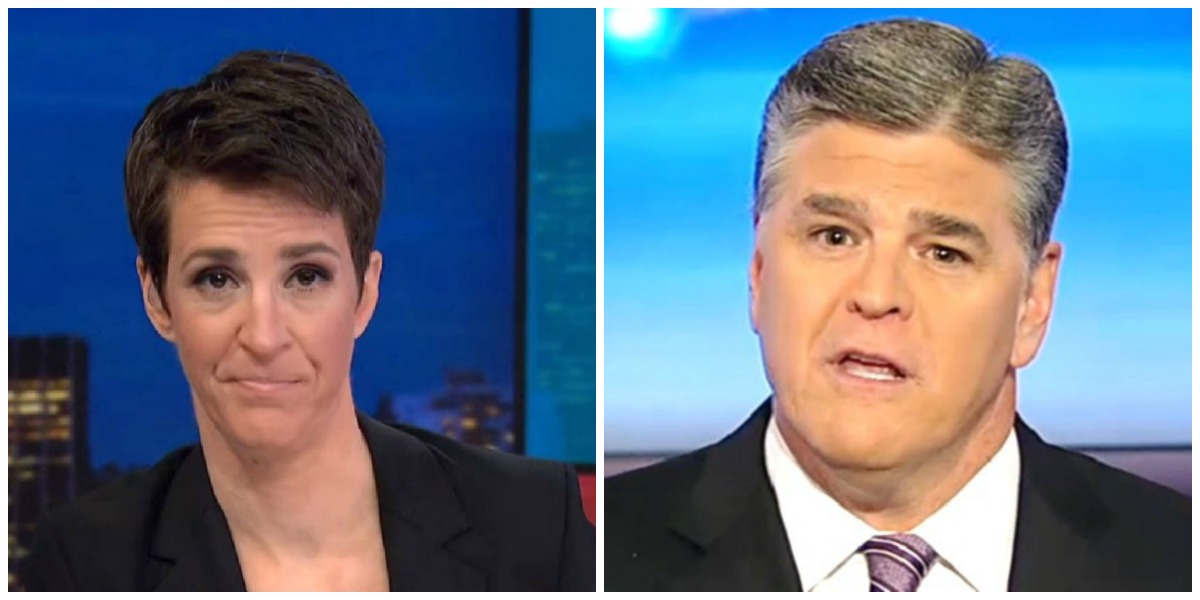 Much has been made over the past few days regarding MSNBC's ratings drop in the wake of Attorney General William Barr's summary of Special Counsel Robert Mueller's report finding the Trump campaign did not engage in a criminal conspiracy with Russia in its 2016 presidential election interference.
Looking at the entire first quarter of 2019, however, MSNBC boasted the top-rated program in the key 25-54 advertising demographic.
According to Nielsen, MSNBC's The Rachel Maddow Show topped cable news in the demo, averaging 550,000 viewers in the metric for this year's first quarter. In comparison, Fox News' Hannity, which airs opposite Maddow at 9 PM, drew 540,000 demo viewers. (When counting "Special" broadcasts of Hannity, the show averaged 526,000 in the demographic.)
Fox News' Tucker Carlson Tonight placed third in the 25-54 demo, pulling in 534,000 viewers during the 8 PM time slot.
The Rachel Maddow Show also enjoyed its best ever quarter in total viewership, drawing 3.07 million viewers. Maddow edged out Hannity with Specials in total audience (3.06 million) and more than doubled up CNN's Cuomo Prime Time during the 9 PM hour (1.3 million). (Hannity without the Special broadcasts led in total viewership.)
MSNBC also enjoyed year-to-year increases in overall viewership in both weekday dayside (M-F 9 AM-5 PM) and total day. In dayside, MSNBC was up 17 percent compared to first quarter 2018, drawing 1.2 million total viewers. In dayside, MSNBC grew nine percent with 1.1 million viewers overall.