Kellyanne Conway Snaps at Fox's Chris Wallace For Asking About Her Marriage: 'Are You Oprah Now?!'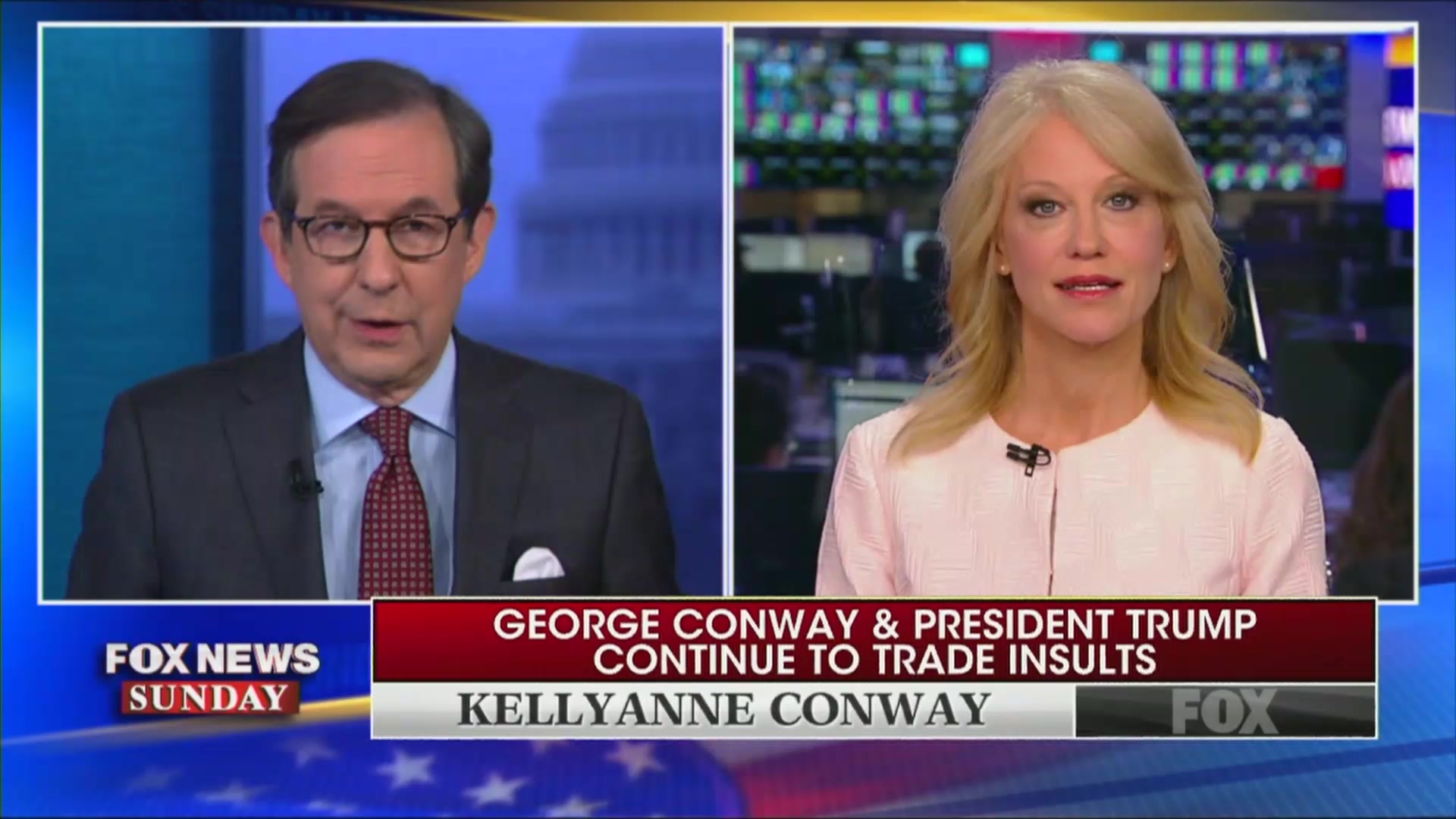 Towards the end of an intense and wide-ranging Fox News Sunday interview that included her sputtering when pressed on President Trump's claims that the Mueller report "totally exonerates" him, White House counselor Kellyanne Conway snapped back at host Chris Wallace after he probed about her marriage in the wake of her husband George Conway's relentless public criticism of her boss.
Approaching the subject with trepidation, Wallace noted that they were going to discuss "something I don't like talking about," adding that he knows Conway doesn't like discussing it. The Fox anchor went on to highlight her husband labeling Trump a liar who suffers from "narcissistic personality disorder" and is unfit for office. Wallace then noted that the president has called George Conway a "whack job" who is "doing a tremendous disservice" to his wife.
"Why is your husband attacking your boss?" Wallace asked, prompting Conway to respond that the host could just ask her husband. She went on to claim that "some people" believe that her husband is cyberbullying her in an effort to get her to quit her White House job.
"My first line of protection in this world is and will always be my four children," she stated. "So I don't really like to discuss this publicly. What I will tell you is George was very supportive of President Trump, election night in his hat, blocks away from her at the Hilton in New York. Wanted to take a job in the Trump Administration and changed his mind and was a guest of the president and first lady months after he withdrew himself for consideration."
Wallace pointed out later that Kellyanne has said that she believes her husband has hurt their children with the public scuffle over Trump and that "nobody would want to see their mom and dad fighting out in public," causing Conway to disagree and claim that "some people take a little bit too much glee over the situation."
"I don't want you to fight," Wallace said. "I guess the question I have to ask, bottom line, final question, has this hurt your marriage?"
"Oh Chris, what are you Oprah now?" Conway exclaimed. "What am I, on a couch and you are a psychiatrist? I think it's a really inappropriate question, and here's why."
She continued: "That's the line over which nobody should have crossed. So if you want to talk about policy issues, policy disagreement, the fact that George Conway, my husband, would prefer that I not work in the White House, I guess you can ask the questions. The president has weighed in, I've weighed in as modestly as I can. But now you're asking a very personal question and I would say to you, you should go ask it of many people. I see messy lives living in glass houses all over both cities in which I live."
Wallace noted that he was extremely uncomfortable asking the question but it seemed relevant because the president himself called George Conway the "husband from hell." Conway replied that the only reason this is getting any coverage is due to her husband's open criticism of Trump, which she believes the rest of the media agrees with.
"As I said, I'm not come people asking it, it is what people are talking about. If I offended you, I'm sorry," Wallace concluded.
"I'm sure," Conway snidely responded.
Watch the clip above, via Fox News.