New York Times Report Contradicts Judge Napolitano on Length of Mueller Report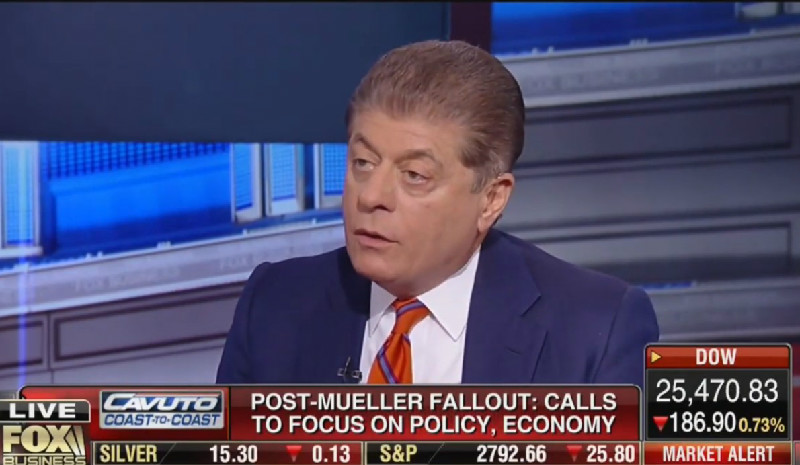 The New York Times reported Thursday morning that the still-unseen report by Special Counsel Robert Mueller on Russian election interference that was filed last week is over 300 pages long. This flies in the face of Wednesday's on-air declaration by Fox News senior judicial analyst Judge Andrew Napolitano that the Mueller report is 700 pages long.
The Times story is sourced to "American officials with knowledge of it" and suggests that the Mueller report goes "well beyond the kind of bare-bones summary required by the Justice Department regulation," raising questions over just how much Attorney General William Barr's four-page summary captured of Mueller's findings.
While 300-plus pages definitely reveal the report is "very substantial," which is the description House Judiciary Committee chairman Jerry Nadler (D-NY) was given after he spoke to Barr on Wednesday, this is way off the amount Napolitano gave during a Fox Business segment Wednesday.
"We saw on Sunday a four-page summary of a 700-page report," the Fox analyst told host Neil Cavuto. "The 700-page report is a summary of two million pages of documents, of raw evidence."
The judge went on to make the case that the length of the report and Barr not ruling out evidence of a conspiracy or obstruction of justice indicates that "there is something there" that Democrats will have a "field day" with once the report is made public.
Napolitano, meanwhile, isn't the only Fox News personality to authoritatively report the length of the Mueller report on the air. In multiple Fox & Friends segments on Tuesday and Wednesday, host Brian Kilmeade said that the report was around 700 pages and, citing experts, that roughly 100 pages would be made public.