Michael Caputo Melts Down to Tucker Carlson, Demands Sedition Charges Against Russia Investigators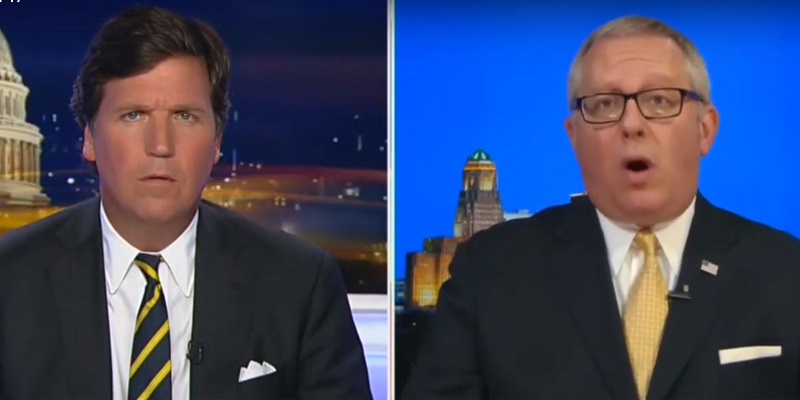 Onetime Trump campaign aide turned conservative pundit Michael Caputo nearly lost his mind on Tucker Carlson Tonight Thursday evening.
Carlson, parroting the conservative line that Robert Mueller is about to submit a report that clears Donald Trump, started off by suggesting to Caputo that he will be owed an apology. Caputo replied in the affirmative, but added that "there's no office of return of your reputation in the United States Capitol."
Caputo is a long-time associate of Roger Stone and Paul Manafort, managed Carl Paladino's campaign for the New York governor's mansion in 2010, and then worked for Donald Trump for part of the 2016 campaign. It is unclear to which reputation he is referring.
Caputo complained about families and individuals whose lives have been ruined by the investigation, which anyone familiar with Donald Trump could have told him was a risk he ran before he signed up to work for the guy. Then he pivoted to yelling about some of the people involved in the writing and dissemination of the Steele dossier and mentioned the "great work" of investigative journalist Paul Sperry in exposing them. (Sperry is a conspiracy theorist who recently accused Reps. Rashida Tlaib and Ilhan Omar of being secret jihadists.)
Finally, Caputo finished up by demanding that the people he claims are perpetuating the "Russia collusion hoax" be charged under 18 U.S. Code 2384, the statute for seditious conspiracy to overthrow the U.S. government. Which is self-evidently silly, and a rather ironic demand for a guy who supposedly worked with Oliver North to shore up support for the Nicaraguan contras at the height of the Iran-contra scandal.
Watch the clip above, via Fox News.