Tucker Carlson Reacts to Unearthed Radio Comments: 'Media Matters Caught Me Saying Something Naughty'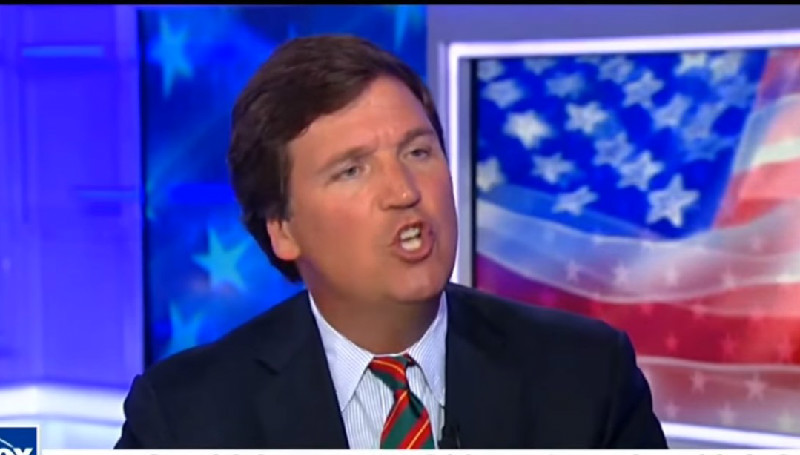 Reacting to unearthed audio from his past appearances on shock jock Bubba the Love Sponge's radio show which showed him making a number of misogynistic and lewd remarks, Fox News host Tucker Carlson released a statement in which he took aim at left-wing media watchdog Media Matters for America, the group that posted his remarks.
"Media Matters caught me saying something naughty on a radio show more than a decade ago," Carlson said in the statement given by Fox News to Contemptor.
"Rather than express the usual ritual contrition, how about this: I'm on television every weeknight live for an hour. If you want to know what I think, you can watch. Anyone who disagrees with my views is welcome to come on and explain why," he added.
Carlson also posted the statement to Twitter:
— Tucker Carlson (@TuckerCarlson) March 11, 2019
Between 2006 and 2011, the conservative commentator referred to Martha Stewart's daughter as "cunty," called Britney Spears and Paris Hilton the "biggest white whores in America," diminished the crimes of cult leader and child rapist Warren Jeffs, joked about statutory rape, and discussed sex with underage girls.
Additionally, he said women are "extremely primitive" and need to "be quiet and kind of do what you're told."
Currently, Carlson is dealing with an advertiser boycott for saying in December that immigration makes America "poorer and dirtier." One would think that these old remarks could only make that situation worse.
In response to Tucker Carlson's statement, Media Matters president Angelo Carusone tweeted that the "reason we released this is precisely because the things you say on your Fox News show echo the misogyny displayed in those clips."
The reason we released this is precisely because the things you say on your Fox News show echo the misogyny displayed in those clips. We were actually helping people better understand just how vile your current Fox News show is by showing what that worldview really looks like. https://t.co/R4TmeFN6jK

— Angelo Carusone (@GoAngelo) March 11, 2019
He added: "We were actually helping people better understand just how vile your current Fox News show is by showing what that worldview really looks like."